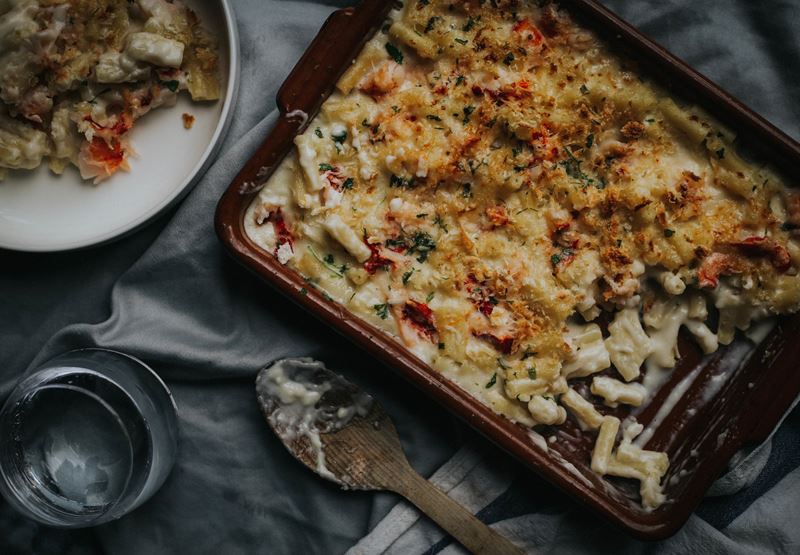 Greendale Lobster Mac & Cheese
Elevate humble Macaroni Cheese to an altogether more luxurious level with the addition of a whole locally-caught Greendale lobster! There are more complicated versions of this recipe out there, but (because of the time it takes to prep the lobster) we've tried to keep it simple. Serves 6.
Posted by:

John Williams

Posted on:
Method
First, prepare the lobster. Twist the claws away from the body until they break off, then tap them with a rolling pin to break the shell. Gently ease the meat out of the claws and cut it into bite-sized pieces. Next, cut down lengthways through the body so that you can pull it into two halves and remove the meat from the shell. Cut the meat into chunks the same size as the claw-meat pieces.
Put the lobster shells into a large pan and pour over the milk. Add the bay leaf, garlic clove and peppercorns, than place the pan over a medium-high heat and bring it up to the boil. When it boils, take the pan off the heat and carefully strain the milk into large jug, then set aside briefly.
Place a large pan of salted water over a high heat, and bring it to the boil. Add the pasta and cook until 'al dente' (about 8-10 minutes). While the pasta cooks, you can get on with making the sauce; in a clean pan, melt the butter and then stir in the flour. Cook for 2-3 minutes, continuing to stir, then slowly start adding the infused milk to the pan, a little at a time, stirring frequently. Make sure each addition of milk is absorbed before adding more, and stir well to ensure the sauce is smooth. When you have used up all the milk, stir in the grated gruyère and parmesan cheese and cook for 2-3 minutes until it has all melted.
By now the pasta should be cooked; drain it, then tip it into the pan with the cheese sauce, stirring well to combine. Fold in the lobster meat and the chopped parsley, season to taste with salt and pepper, then carefully empty the pan into a large baking dish. Heat your grill to medium-high. Put the topping ingredients into a bowl and mix well, then scatter the mixture evenly over the top of the lobster and pasta. Place under the hot grill for about 5 minutes (don't let it catch or burn), until the topping is golden brown, then serve straight away.
Come and see us
Greendale Farm Shop
Sidmouth Road
Nr. Farringdon
Exeter
EX5 2JU
Opening hours
Mon-Sat 8am-9pm | Sun 9am-8pm