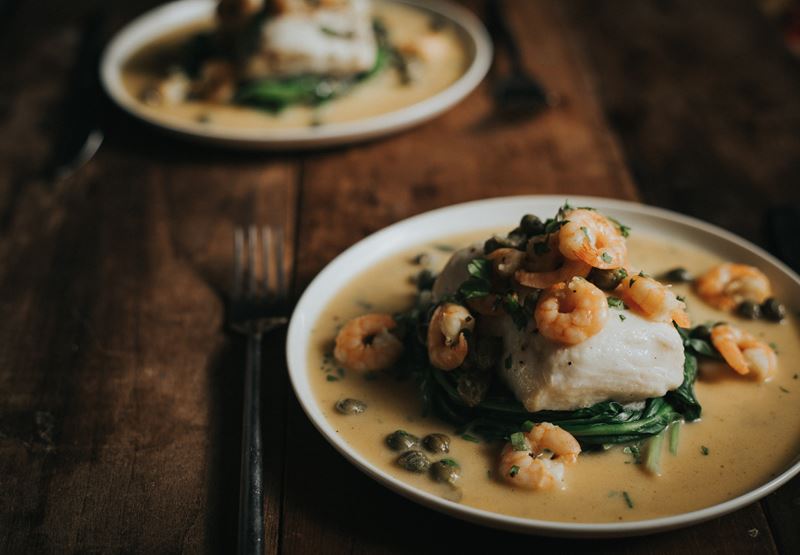 Hake with Prawns and Capers Recipe
Unfairly underrated, Hake are just as flavoursome as any other white fish. Caught by our boats and MSC approved, our Hake is served with plump prawns and a buttery, caper-filled sauce. This lovely dish is perfect for lunch or a light supper – serve with your favourite veg, some crusty bread or a few handfuls of crisp salad leaves. Serves 4
Posted by:

John Williams

Posted on:
Method
First, preheat your oven to 200˚C (fan 180˚C/Gas Mark 6) and line a large baking tray with foil. To cook the hake, take a large, ovenproof frying pan, add 2-3 tsps of olive oil and place over a high heat. As soon as the oil is hot, put the hake fillets into the pan, skin side down. Fry for three minutes, then take the pan off the heat and lift the fillets on to the lined baking tray. Put the tray into the hot oven while you prepare the sauce.
Take the frying pan you used for the fish and put it back on the hob over a low-medium heat. Put the butter into the pan with the prawns and let them heat through for two minutes. Next, add the wine, then increase the heat to bring the pan up to a simmer and let it cook away for a further two minutes. Stir in the capers, season to taste with a little salt (capers are salty) and plenty of pepper, then remove from the heat. Take the hake fillets out of the oven and put one on each of four serving plates. Spoon over the prawns and their sauce, then sprinkle over the parsley and serve.
Be inspired…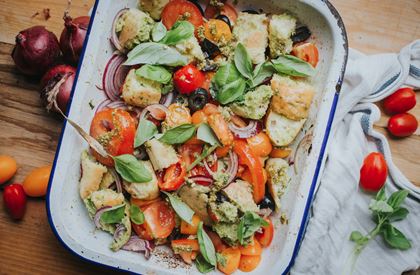 Panzanella is an old Italian recipe; it uses relatively few ingredients, so it's worth seeking out the juiciest, ripest tomatoes and the best olive oil you can find.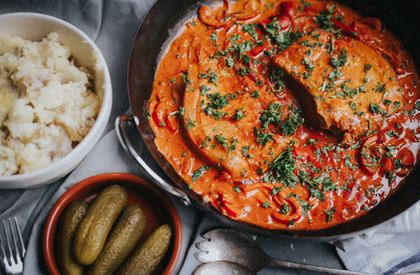 Rustle up a quick, tasty weeknight meal with this easy pork recipe. Don't be put off by the amount of paprika used - the delicious smoky flavour marries perfectly with the rich meat and sweet peppers.
Come and see us
Greendale Farm Shop
Sidmouth Road
Nr. Farringdon
Exeter
EX5 2JU
Opening hours
Mon-Sat 8am-8pm Sunday 9am-6pm