Home Delivery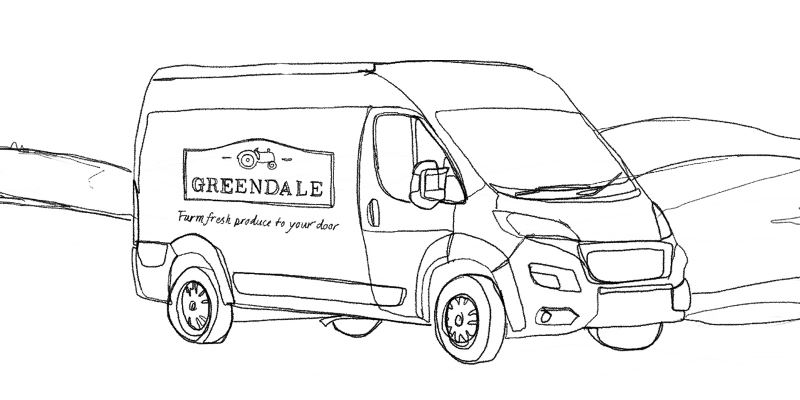 Local Delivery
We now offer a local delivery service for customers living in the EX1 to EX15 postcode areas. Fresh produce from our farm and fishing fleet is packed into our vans and delivered direct to your door. The cost is £4.95 or FREE when you spend £50 or more. You can choose between 'Same day' (orders placed before 12pm), 'Next day' (orders placed by 2pm) or 'Specified day' delivery.
When will you deliver?
We will endeavour to deliver 'Same Day' orders by 7.30pm that evening, but cannot guarantee this. 'Next day' or 'Specified day' orders will be delivered between 8am and 7.30pm, Monday to Saturday. You will receive an email when your order leaves the Farm Shop, and our delivery driver will give you a courtesy call approximately 30 minutes before his/her arrival.
What if I'm not in to take the delivery?
You can leave special delivery instructions for the delivery driver during the checkout process. You can instruct the driver to leave the parcel at a neighbour's address, or at a safe place such as a patio, porch or garage. You can also arrange delivery to your workplace, or to a neighbour or friend if it's more convenient, at no extra charge. Alternatively, you can leave delivery instructions with our driver who will call you approximately 30 minutes before his/her arrival. If you are not available to take delivery or a call from the driver, or have not left suitable instructions for the delivery driver, we will leave the parcel in a safe place and leave a Greendale delivery card with details.
NATIONAL DELIVERY
If you live outside the Exeter area, don't worry, we also offer a fast and reliable nationwide home delivery service. This service operates overnight for your next-day delivery. If an order is placed before 2pm, fresh produce from Greendale's Farm Shop can be delivered to your door the next day. You can even specify whether you'd like it delivered in the morning or on an alternative day (Tuesday to Sunday). The cost is from £7.95 or FREE when you spend £50 or more (only applicable to standard next day service). 
What are the delivery costs?
We offer the following delivery services: 
Next Day National Delivery - £7.95 (Free delivery on orders over £50) - Tuesday to Friday.
Saturday & Sunday Delivery - £10.00
Where do you deliver to?
We provide next-day home delivery to all postcodes in England and Wales, and the following Scottish postcodes; DD, DG, EH, FK, G, KA (except KA27 &KA28), KY, ML, TD, AB1 to AB16, AB21 to AB25, AB30, AB39, PA1 to PA19, PH1 to PH3, AB31 to AB38, AB40 to AB56, IV1 to IV2, PA21 to PA26 and PH4. Please note we are unable to provide morning deliveries to postcodes in Scotland. It is possible to choose a delivery address that is different to the billing address, as an alternative UK postal delivery address can be given during check-out.
When will you deliver?
Our courier will send you a message in the morning to provide you with an estimated time slot. For standard next-day delivery our courier will deliver between 8am and 8pm. Morning deliveries will be delivered between 8am and 12pm, Saturday deliveries between 8am and 8pm.
Can I specify a delivery day?
During the checkout process you will be able to specify which delivery day you would prefer (Tuesday to Saturday). You can place an order and schedule its delivery up to one week in advance, but please note that delivery dates may be affected by public and bank holidays. You can always see the next available delivery date on our delivery date calendar at checkout, but if you are in any doubt, please feel free to call us on 01395 232855 and we'll answer any queries you might have. Please note this service is not available for pre-order Christmas deliveries.
How do you keep your goods fresh?
All orders are placed in insulated polystyrene boxes, securely wrapped in ice packs and bubble wrap to keep them cool and in perfect condition during transit. This ensures that your order is cold on arrival at your door, and will remain so if you're not there to open the box straight away. Find out more about our packaging.
Come and see us
Greendale Farm Shop
Sidmouth Road
Nr. Farringdon
Exeter
EX5 2JU
Opening hours
Mon-Sat 8am-8pm Sunday 9am-6pm