Greendale Farm Shop
Greendale Butchers
Award-Winning Butchers
Greendale's butchers prepare all our meat on-site at the farm shop using meat from our own farm. With years of experience, they are always on hand to help customers with expert advice about choosing the right cut of meat and the best way to cook or prepare it. If you're buying online, rest assured that this same expertise has been put to good use to ensure your purchase is exactly right; you'll find all of our meat is available in a wide range of cuts and portions, ready-packed for fast delivery.
Book a table
Book a table at Greendale Farm Shop Kitchen. The extensive menu is created around many of the items sold in our shop; we offer a range of delicious dishes that showcase fresh local produce from our fish counter, deli and butcher's department. Christmas Set Menu available from 18th November–23rd December 2023 (4pm–9pm), please see details below. NB: For bookings of more than 6 please email info@greendale.com
GREENDALE KITCHEN OPENING HOURS:
Monday - Sat: 8am - 10pm (last orders 9pm)
Sunday: 9am - 10pm (last food orders 9pm)
Weeknight Offers
at Greendale Kitchen
Fancy a night off? Why not treat yourself to dinner at Greendale Kitchen and take advantage of our great new offers, on Tuesday, Wednesdays and Thursdays from 4pm onwards. On Tuesdays, enjoy a Greendale burger, chips and a pint for only £12; on Wednesday nights we're offering 2-for-1 on fish & chips, and on Thursdays customers can save 20% on our prime farm-reared beef steaks. Offers start at 4pm, with advanced booking strongly recommended. *Subject to terms and conditions.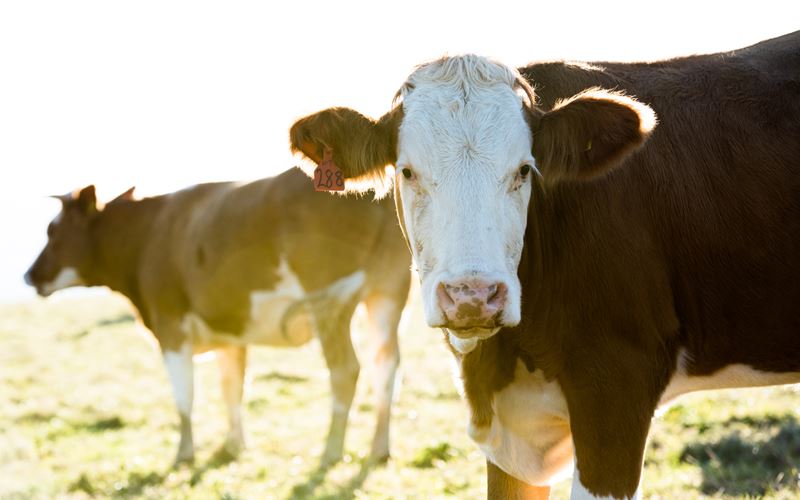 From Farm to Plate:
Part 1 The Cattle
Greendale Farm Shop's 'From Farm to Plate' film series tells the story of Greendale beef. Starting with the cattle grazing above the Jurassic coast, it moves on to visit the double award-winning butchers at Greendale Farm Shop in Exeter, and ends with Chef Tom Williams-Hawkes cooking a finished beef dish at the Salutation Inn. The first film, Part 1, features Sam, our Farm Manager, as he checks the Greendale herd.
Why Greendale seafood is best
At Greendale we're only interested in selling the best to our customers. Because we have our own fishing fleet, we can supply our fish counter with regular fresh catches that can be traced directly back to the sea. Operating in accordance with the Seafood Responsible Fishing Scheme, our boats work out of Exmouth, Brixham and Newlyn, and catch a variety of fish from Westcountry waters; a catch can often be on its way to the Greendale farm shop in Exeter within hours of leaving the sea. If we can't catch it ourselves, we source only from trusted suppliers with standards as high as our own, and we take great pride in ensuring that a delicious variety is always to be found on our fish counter.
From 9th December
Greendale Santa's Grotto
The big man himself will be in residence here at Greendale Farm Shop this Christmas! From 12-4pm on December 9th-12th, and again on the 17th-19th, children can pay a special visit to Santa in his grotto, and receive a gift to take home. Please book to confirm your 5-minute slot; tickets are £15.00 for each child. We will provide a queueing area with Christmassy activities (colouring, singalong and glitter wishes) to help make sure that everyone is ready to take their turn.
Come and see us
Greendale Farm Shop
Sidmouth Road
Nr. Farringdon
Exeter
EX5 2JU
Opening hours
Mon-Sat 8am-10pm | Sun 9am-10pm