Fruit and Veg
Local & Lovely
Fresh Locally Grown Veg
At Greendale Farm Shop we're always looking for fantastic local produce - if it's high in quality and low in food miles, we want it on our shelves. We're particularly proud of our selection of delicious, locally-grown veg, available at the Farm Shop and on our website. 
Be inspired…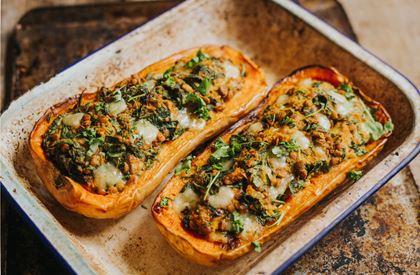 Made in South Devon, Sharpham Rustic cheese is made with vegetarian rennet and has a delicious nutty flavour - perfect for baking into this hearty and colourful dish.
This fabulously flavourful tart has a rich pear and blue cheese filling encased in a walnut pastry shell – just the ticket when you need a show-stopping vegetarian option for your Christmas dinner or Boxing Day buffet!
Greendale Restaurant
The Greendale Kitchen is now open in the evenings offering delicious local sourced meals. The extensive menu is created around many of the items sold in our shop; we offer a range of delicious dishes that showcase fresh local vegetables.
Come and see us
Greendale Farm Shop
Sidmouth Road
Nr. Farringdon
Exeter
EX5 2JU
Opening hours
Mon 8am-8pm | Tues-Sat 8am-10pm | Sun 9am-7pm