Pantry and Deli
Greendale Bakery
From Cobs to Bloomers, Sourdough to Spelt, there's nothing quite like fresh, crusty bread. Using carefully sourced ingredients and traditional recipes, the Greendale Farm Shop bakery team works hard to ensure a fresh selection of delicious bread is available every day. 
Deli and pantry categories
Cornish Kern
World's Best Cheese 2017/18
Cornish Kern from the Southwest of England took the top spot at The World Cheese Awards in London and you can buy this award winning cheese, here at the Greendale Farm Shop.  The Cornish Kern is a hard cheese with soft caramel notes and a deep, savoury aroma. Developing over sixteen months within its distinctive black wax coating, the matured cheese is similar to Dutch and French/Swiss cheeses, with a close texture and delicious buttery taste.
Introducing
Greendale Devon Gin
Carefully handcrafted in Exeter, Devon, Greendale Gin is a classic London dry gin, created with a unique blend of botanicals inspired by the fields and hedgerows of our farm. Produced in small batches, it's created from pure grain spirit and triple-distilled in a traditional copper-pot still; the result is a rich, full-flavoured gin with warming spice, soft floral notes and a velvety finish. Enjoy over ice with tonic and lemon, mixed into cocktails, or simply savoured neat.
Be inspired…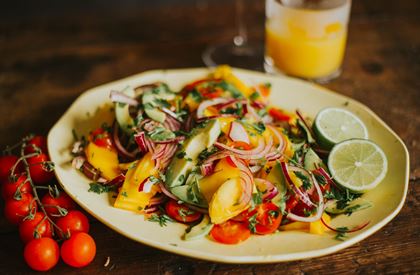 Healthy and delicious, this quick, simple salad combines some surprising ingredients (mango with tomato sounds odd, but somehow it works).
Win £250
of Farm Shop Produce
For your chance to WIN a £250 voucher to spend on our website or in our shop, simply subscribe to our newsletter using the link below. Hurry as the competition will end on the  30th of April 2019.
Come and see us
Greendale Farm Shop
Sidmouth Road
Nr. Farringdon
Exeter
EX5 2JU
Opening hours
Mon-Sat 8am-8pm Sunday 9am-6pm