Meat and Poultry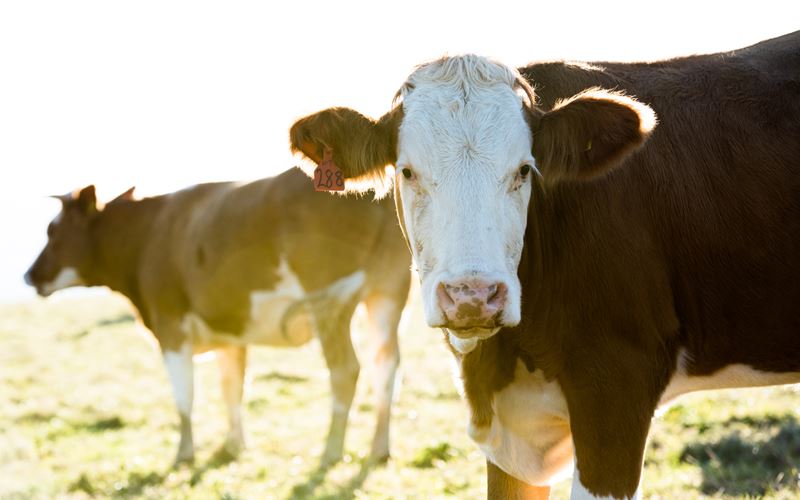 From Farm to Plate:
Part 1 The Cattle
Greendale Farm Shop's 'From Farm to Plate' film series tells the story of Greendale beef. Starting with the cattle grazing above the Jurassic coast, it moves on to visit the double award-winning butchers at Greendale Farm Shop in Exeter, and ends with Chef Tom Williams-Hawkes cooking a finished beef dish at the Salutation Inn. The first film, Part 1, features Sam, our Farm Manager, as he checks the Greendale herd.
Greendale Butchers
Award-Winning Butchers
Greendale's butchers prepare all our meat on-site at the farm shop using meat from our own farm. With years of experience, they are always on hand to help customers with expert advice about choosing the right cut of meat and the best way to cook or prepare it. If you're buying online, rest assured that this same expertise has been put to good use to ensure your purchase is exactly right; you'll find all of our meat is available in a wide range of cuts and portions, ready-packed for fast delivery.
Why Greendale Beef is best
Pastured at our family farm on East Devon's Jurassic coast, the Greendale beef herd comprises a mix of Limousin, Charolais, Red Devon Cross, Belgian Blue and Blonde d'Aquitaine cattle. We place great importance on animal welfare, such as the guidelines set out by the Red Tractor Food Assurance Scheme. Good herd management and a grass- and maize-based diet ensure our animals lead healthy, stress-free lives, and in turn produce superb quality meat. Our beef is hung on the bone for a minimum of three weeks, giving it time to develop wonderful tenderness and flavour, then the skilled butchers at Greendale Farm Shop finish the process, preparing the delicious, high-quality beef products we're renowned for.
Come and see us
Greendale Farm Shop
Sidmouth Road
Nr. Farringdon
Exeter
EX5 2JU
Opening hours
Mon-Sat 8am-10pm | Sun 8am-9pm