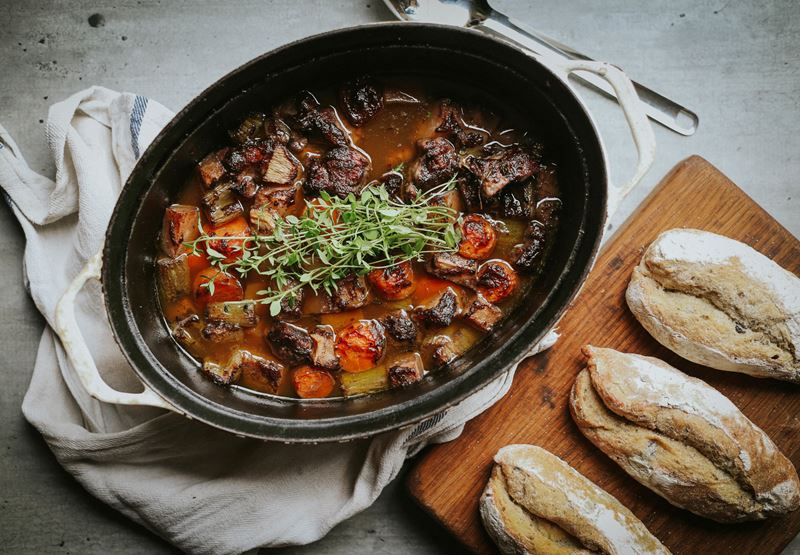 Warming Braised Venison
Rich, warming and delicious, this generously-sized dish is great for entertaining.
Posted by:

John Williams

Posted on:
Method
Preheat your oven to 180°C/Gas Mark 4. Heat a splash of oil and a generous knob of butter in a heavy-based casserole dish, then add the onion, carrots, turnip or swede and celery and cook over a medium heat for about 5 minutes, or until the vegetables start to soften. Add the garlic and cook for a further minute, then remove everything from the dish and set it aside.
Put the flour into a plastic bag, together with salt and black pepper to season. Add the diced Venison to the bag and give the bag a good shake, so that the meat is well coated in the flour. Take the casserole dish that you used to cook the vegetables and return it to the heat; add a glug more oil and some butter to the dish, then add the venison and cook over a high heat, stirring regularly, until the meat is well browned. Remove the Venison from the dish and set it aside, with the vegetables.
Add the red wine and redcurrant jelly to the dish and bring it up to the boil, stirring with a wooden spoon to scrape up any bits from the bottom of the dish. Pour in the beef stock, then return all the veg and the Venison to the dish, along with the sprigs of Thyme and the Bay leaf. Bring to the boil, then place a lid on the casserole dish and transfer it to the preheated oven for about 1½ hrs, or until the Venison is tender.
Serves 8.
Come and see us
Greendale Farm Shop
Sidmouth Road
Nr. Farringdon
Exeter
EX5 2JU
Opening hours
Mon-Sat 8am-10pm | Sun 8am-9pm