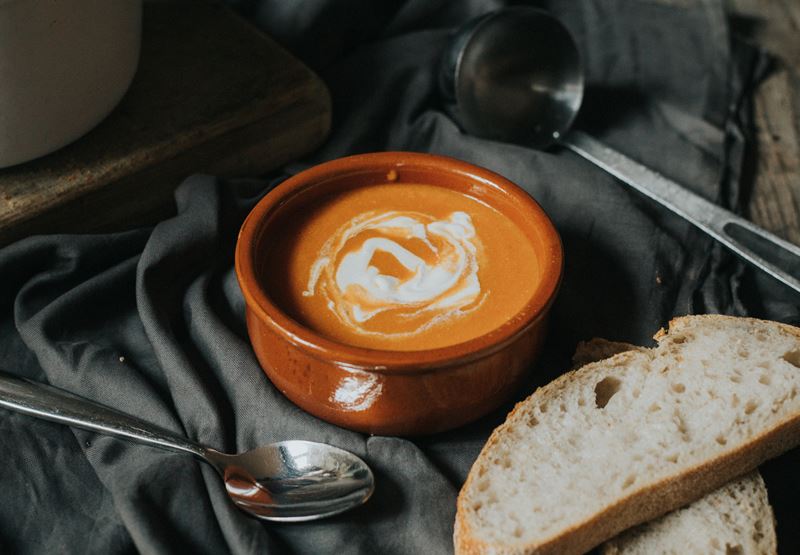 In-Between Soup Recipe
So called because it's perfect for those in-between meals when you've had enough rich, festive food but still need something hearty and sustaining. Best of all, it's made with fridge staples and store cupboard standbys, for minimal faff. Serves 4.
Posted by:

John Williams

Posted on:
Method
Trim and peel the onion and cut into evenly-sized chunks, then scrub and trim the carrot and cut into similar-sized chunks, and peel the garlic. Place a large saucepan over a medium heat and add the olive oil. When the oil is hot, lower the heat slightly and add the onion to the pan. Cook for 5 minutes, then crush in the garlic cloves and add the carrot. Cook gently for a further 5-10 minutes, until the onion is soft and translucent, then stir the red lentils into the pan, followed by the tinned tomatoes. Next, add the hot stock, thyme and tomato purée, then stir everything to mix well and increase the heat, bringing the pan up to the boil.
When the pan boils, lower the heat again and leave to simmer gently for about 30 minutes, stirring now and again, until the lentils are fully cooked and the vegetables are tender (you may need to add a bit more hot stock or water if it starts to look too dry). Take the pan off the heat and leave to cool a little, then use a stick blender (or pour/ladle very carefully into the bowl of a food processor) and blend until you have a smooth soup. Add salt and pepper to your taste, then put the soup back on a medium heat, stirring, until piping hot. Ladle into bowls and serve with a dollop of thick yoghurt and plenty of your favourite bread.
Come and see us
Greendale Farm Shop
Sidmouth Road
Nr. Farringdon
Exeter
EX5 2JU
Opening hours
Mon-Sat 8am-10pm | Sun 9am-10pm