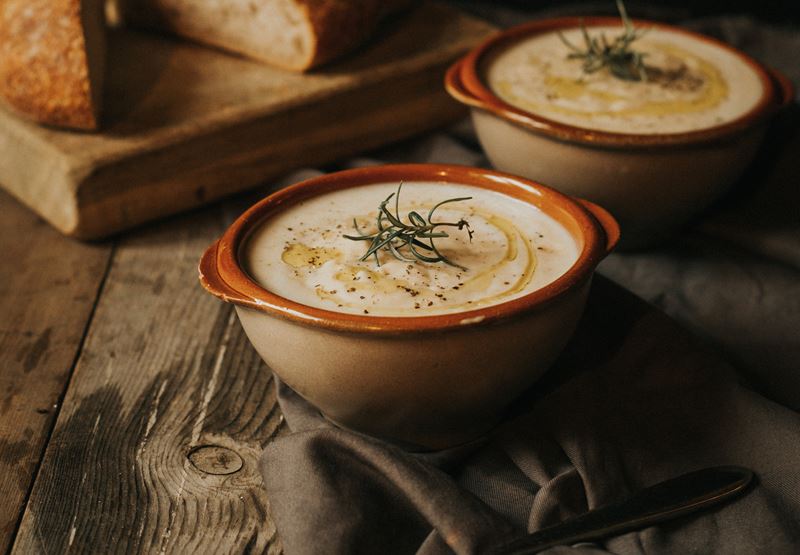 Honey-Roast Parsnip Soup
This super-comforting soup smells as good as it tastes! For a vegan version, substitute maple syrup for honey, use an extra splash of oil instead of butter, and use your preferred plant milk. If you have any leftovers, it freezes well – perfect for an easy meal when you need a break from the kitchen. Serves 4.
Posted by:

John Williams

Posted on:
Method
Preheat the oven to 200°C (Gas Mark 6). Put the parsnips on a baking sheet, then drizzle over the honey and a tablespoon of olive oil. Scatter over a good pinch of salt and some black pepper and use your hands to mix it all together, so that the parsnip pieces are well coated. When the oven is hot, put the parsnips in to bake for about 15 minutes, or until tender and golden. Set the cooked parsnips aside.
Place a large saucepan over a medium heat and add the butter, together with a tablespoon of olive oil. When the butter has melted, lower the heat and add the onion and the rosemary sprig. Cook gently, stirring from time to time, for 5-10 minutes until the onion has softened, then add the roast parsnips, vegetable stock and milk to the pan and stir to mix. Bring the pan up to the boil; watch it carefully, and turn it back down to a simmer the second it starts to boil. Simmer for about 5 minutes, until the parsnip chunks are really soft, then carefully take out the rosemary sprig. Let the pan cool a little, then add salt and pepper to your taste and carefully pour or ladle the contents into a food processor (or use a stick blender) and pulse until you have a smooth soup. Pour back into the pan and check you are still happy with the seasoning, then heat through and serve hot.
Come and see us
Greendale Farm Shop
Sidmouth Road
Nr. Farringdon
Exeter
EX5 2JU
Opening hours
Mon 8am-8pm | Tues-Sat 8am-10pm | Sun 9am-7pm