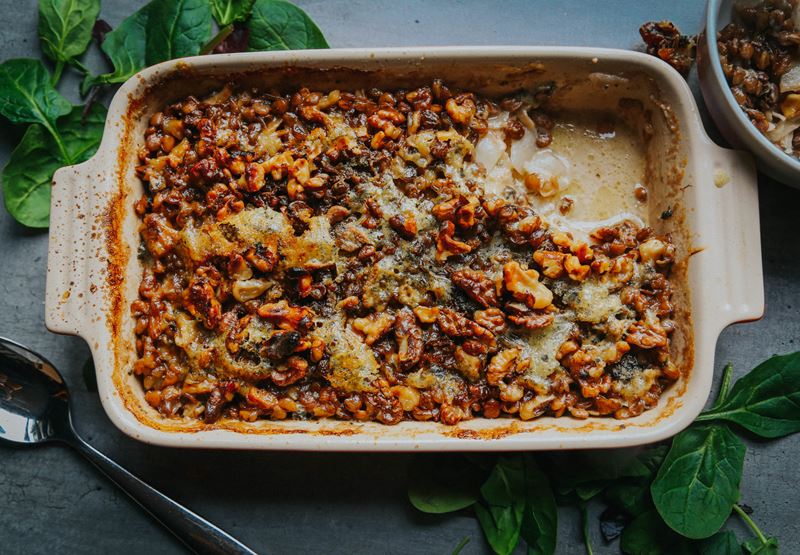 Celeriac, Walnut and Devon Blue Gratin
Celeriac may not be the prettiest of vegetables, but give it a chance and you will be pleasantly surprised. It has a nutty flavour, akin to that of celery, and complements the blue cheese and walnuts in this creamy gratin perfectly. Serves 4.
Posted by:

John Williams

Posted on:
Ingredients
1 large Celeriac, peeled
100g Devon Blue Cheese, crumbled
2 tbsp Olive oil
100ml hot Vegetable Stock
150ml Double Cream
1 x 400g tin Lentils, drained
Large handful of Walnut halves, broken up a little
Sea Salt and freshly ground Black Pepper


Method
Fill and boil your kettle, to make up the stock, and pre-heat your oven to 190°C (Gas Mark 5). Cut the peeled celeriac into quarters, then slice these as thinly as you can (a mandolin or the slicing blade of a food processor is easiest). Put the slices into an oven dish and drizzle over the oil, then add a good pinch of sea salt and a few grinds of the pepper mill and toss everything together. Pour the stock into a mixing bowl and add the lentils, then stir in the cream. Pour this mixture over the celeriac, then put the dish into the hot oven for 40 minutes. Next, remove the dish from the oven and scatter the walnuts and the crumbled cheese across the top, then put back into the oven for another 15 minutes, or until crisp and golden. Serve hot, with a few salad leaves.
Be inspired…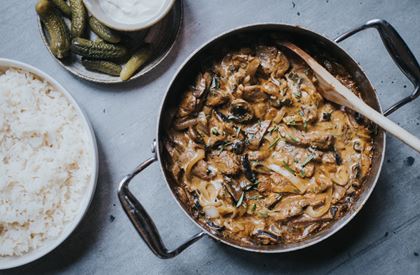 Savoury and sustaining, this creamy pork dish is so much more than the sum of its parts. It's a pretty quick recipe, too, making it ideal to keep up your sleeve for those days when time is tight but you don't want to compromise on quality.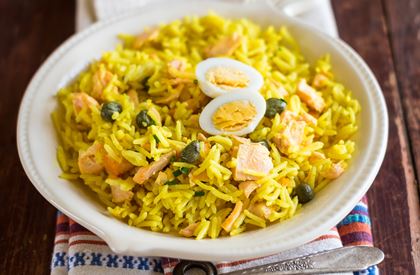 This delicious spiced fish dish makes a perfect brunch or dinner with friends. It's a great showcase for tasty smoked haddock, though other smoked fish (such as hake) can be used equally successfully.
Come and see us
Greendale Farm Shop
Sidmouth Road
Nr. Farringdon
Exeter
EX5 2JU
Opening hours
Mon-Sat 8am-11pm | Sun 9am-7pm