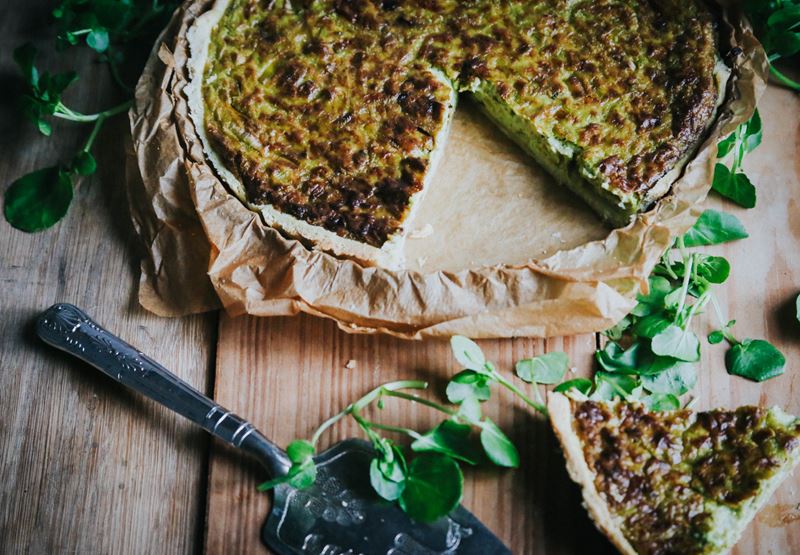 Pea, Leek & Thyme Tart Recipe
This fabulous (and faff-free) vegetarian recipe is a great way to eat your greens! Set in a buttery pastry case and enriched with cream and cheese, it's a hearty meal in itself – just serve with some simply-dressed salad leaves. Serves 6.
Posted by:

John Williams

Posted on:
Ingredients
250g Shortcrust Pastry, shop-bought or home-made
2 tbsp Olive Oil
25g Unsalted Butter
1 large Leek, trimmed and carefully washed
300g frozen Peas
300ml Double Cream
150ml Single Cream
30g Parmesan-style Cheese, grated (not all are vegetarian, so it's worth checking)
Small bunch fresh Thyme, leaves only
Sea Salt and freshly ground Black Pepper, to taste
Method
Preheat your oven to 160°C (Gas Mark 4). Roll out the pastry, and – when it is thin enough – lift it carefully into a 20cm flan dish, gently pressing it down all around the bottom edges (don't trim the sides at this point). Next, cover the pastry case with baking paper, then fill it with baking beans, dried beans or rice and put it into the hot oven for 15 minutes. Next, take the dish out of the oven, remove the beans and the paper and then put the pastry back in to cook for five more minutes. When it has had its time, take the pastry case out of the oven, carefully trim away any overhanging edges and then set it aside while you make the filling.
Cut the washed leek in half lengthways, then slice each half as thinly as you can. Put the butter and olive oil in a large, shallow pan and place over a medium heat; when the butter has melted, add the leeks and the thyme and cook gently, stirring occasionally, until the leeks are soft and sweet. This will take at least 10 minutes, if not longer.
While you are waiting for the leeks to cook, pour both types of cream into a large saucepan and add the frozen peas. Gently bring the pan up to a boil, then reduce the heat and simmer for a couple of minutes. Take the pan off the heat and let it cool for a while; when you can handle it safely, tip the contents into a food processor and blitz until smooth. Tip the pea mixture back into its saucepan, then stir in the leeks when they are ready, together with the grated cheese, and season to your taste with salt and pepper. Ensure the filling is well combined, then tip it into the cooked pastry case. Place the flan on the central shelf of the oven for about 45 minutes, or until the top is nicely golden and the centre has a slight 'wobble' when tapped. Remove from the oven and allow to cool a little before serving.
Be inspired…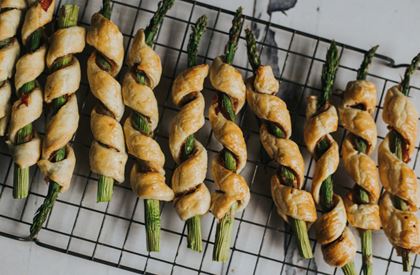 Perfect for buffets, finger food or even a spring picnic, these little twists look impressive but are pretty quick to make (and pretty delicious to eat, too!). Makes 40.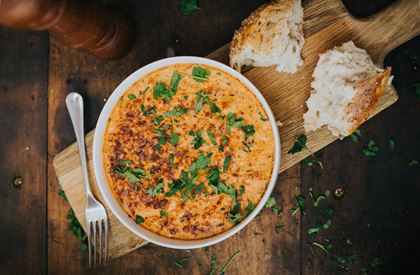 If you're a fan of our Lobster Thermidor, why not try this delicious crab-centric version? Rich, creamy and packed with flavour, it's delicious served with fresh bread for mopping up every last bit! Serves 4 as a starter.
Come and see us
Greendale Farm Shop
Sidmouth Road
Nr. Farringdon
Exeter
EX5 2JU
Opening hours
Mon 8am-8pm | Tues-Sat 8am-10pm | Sun 9am-7pm