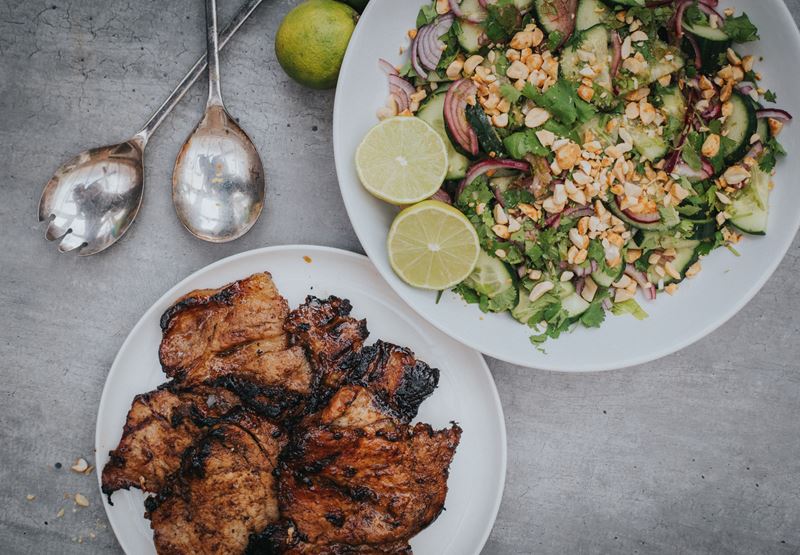 Five-Spice BBQ Pork Chops
Fabulously aromatic, this sweet-savoury marinade is perfect for succulent pork chops, barbecued on the bone. For contrast and crunch, we've paired the chops with a light, cucumber-based side dish that lies somewhere between a salad and quick, fresh pickle. Serves 4.
Posted by:

John Williams

Posted on:
Ingredients
For the marinade:
1 x 2cm chunk of fresh Ginger, peeled (a teaspoon is ideal for this) and grated
2 cloves garlic, peeled and sliced thinly
1 tsp Five-Spice powder
1 tbsp Hoisin Sauce
2 tbsp Soy Sauce
2 tbsp Light Brown Sugar
2 tbsp Runny Honey
1 tsp Rice Wine
For the salad:
1 whole Cucumber, washed
1 small Red Onion, peeled, halved and very thinly sliced
Small bunch fresh Coriander, washed and roughly chopped
2 Limes, juice and zest of
2 tsp Light Brown Sugar
Large pinch of Sea Salt
2 tbsp Dry-Roasted Peanuts, roughly chopped
Method
First, whisk all the marinade ingredients together in a jug or small bowl. Place the pork chops in a single layer in a baking dish or tray, and pour the marinade all over them, turning the meat to ensure it is coated evenly. Cover the dish with clingfilm, then refrigerate and leave to marinate for at least 30 minutes, or for a couple of hours if time allows.
When you want to start cooking on the barbecue, light the charcoal and wait for the flames to die down until the coals are light grey and glowing. While you're waiting, make the salad; first, make the dressing by putting the lime juice, sugar and salt into a jug and whisking them together until the salt and sugar have dissolved. Next, cut the cucumber in half lengthwise, then slice it into thin crescents. Put the slices into a salad bowl together with the onion slices and the coriander leaves, then add the lime mixture and toss to coat. Keep the salad in the refrigerator until you need it, and scatter the peanuts over the top just before serving.
When the charcoal is ready, take the chops out of the fridge and place them on the hot grill. Cook them for about five minutes per side, until golden and cooked through – as a rough guide, when the meat is cooked any juices will run clear. (If you don't want to use a barbecue, you can cook the chops on a pre-heated griddle pan, again giving them about five minutes per side until cooked through and golden.) When the chops are ready, serve them hot with the chilled salad alongside.
Be inspired…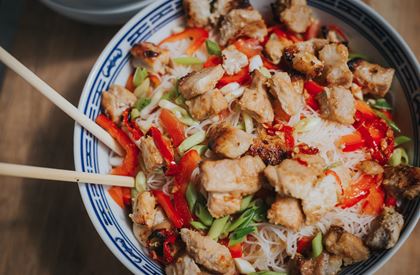 Lip-tingling chilli, aromatic ginger and plenty of fresh herbs make this vibrant salad a joy to eat – it's satisfying, too, packed with succulent pork and rice noodles for a healthy, sustaining meal.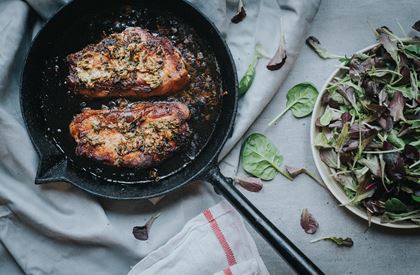 Lean and tender, the pork loin pairs beautifully with the aromatic herbs - serve with a simple green salad and some baby potatoes to help soak up the tasty juices.
Come and see us
Greendale Farm Shop
Sidmouth Road
Nr. Farringdon
Exeter
EX5 2JU
Opening hours
Mon-Sat 8am-10pm | Sun 8am-9pm