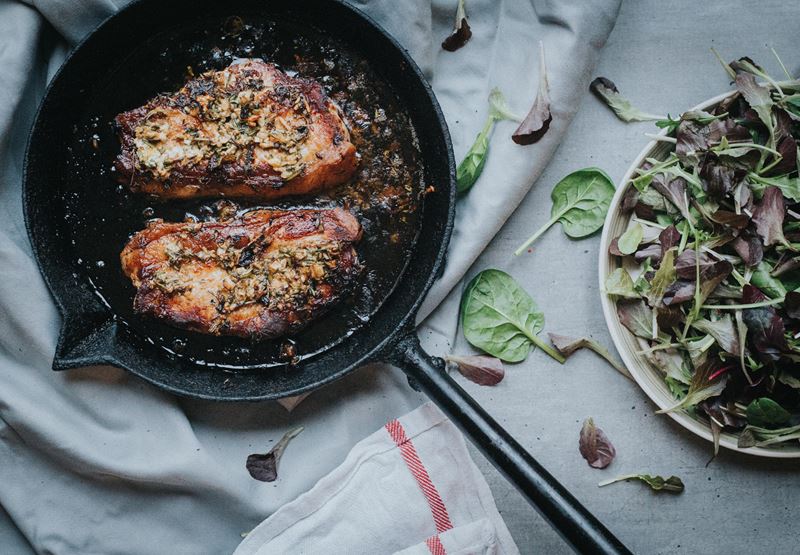 Garlic and herb pork loin steaks recipe
This recipe is fairly quick and fuss-free, so you won't need to interrupt a romantic evening with prepping loads of ingredients or running back and forth to check the oven. Lean and tender, the pork loin pairs beautifully with the aromatic herbs - serve with a simple green salad and some baby potatoes to help soak up the tasty juices. Serves 2.
Posted by:

John Williams

Posted on:
Ingredients
2 Greendale Pork Loin Steaks
1 tbsp Olive Oil
1 unwaxed Lemon, zest and juice
2 large cloves of Garlic, peeled and sliced as finely as you can (a mandolin is useful here)
A small bunch of Thyme, leaves stripped from the stalks
2 sprigs of Rosemary, leaves only, roughly chopped
Sea Salt and freshly ground Black Pepper, to taste
Method
First, mix together all the ingredients except the pork loin steaks. Season the mixture to taste with salt and pepper and pour it into a shallow dish, then add the steaks and turn them over in the mixture a few times to ensure they're coated evenly. Leave the steaks to marinate for about 20 minutes – when this time is nearly up, preheat your oven to 180°C (Gas Mark 4). Now is a good time to boil some water for your baby potatoes, if making, and start them cooking while you wash some salad leaves.
When the pork has had its marinating time, place an oven-proof frying pan over a medium heat and add the steaks. Cook for three minutes on one side, then carefully turn each steak over before putting the pan straight on to the middle shelf of the hot oven. Cook for 5-6 minutes, or until the meat is cooked through (the juices will run clear when it's ready). Remove the pork from the pan and allow it to rest somewhere warm for a few minutes while you drain the potatoes, then arrange the steaks, salad and potatoes on two plates and serve.
Be inspired…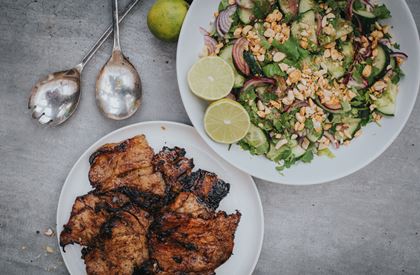 Fabulously aromatic, this sweet-savoury marinade is perfect for succulent pork chops, barbecued on the bone. For contrast and crunch, we've paired the chops with a light, cucumber-based side dish that lies somewhere between a salad and quick, fresh pickle.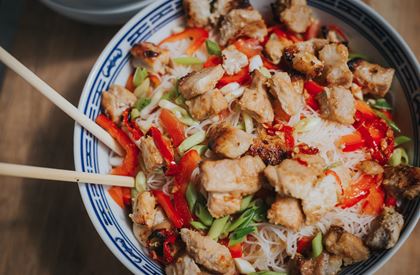 Lip-tingling chilli, aromatic ginger and plenty of fresh herbs make this vibrant salad a joy to eat – it's satisfying, too, packed with succulent pork and rice noodles for a healthy, sustaining meal.
Come and see us
Greendale Farm Shop
Sidmouth Road
Nr. Farringdon
Exeter
EX5 2JU
Opening hours
Mon-Sat 8am-10pm | Sun 8am-9pm