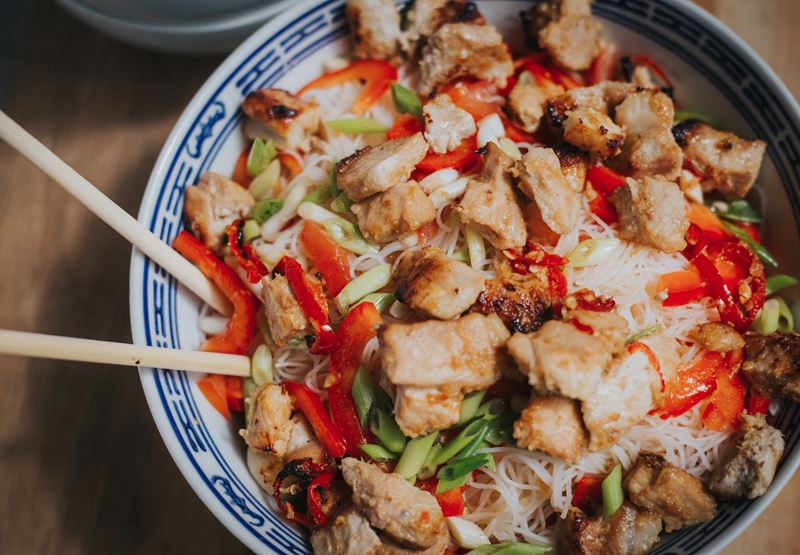 Sesame Noodle Pork Salad Recipe
Lip-tingling chilli, aromatic ginger and plenty of fresh herbs make this vibrant salad a joy to eat – it's satisfying, too, packed with succulent pork and rice noodles for a healthy, sustaining meal. Serves 4.  
Posted by:

John Williams

Posted on:
Ingredients
1 Red Chilli, finely sliced (remove the seeds if you prefer less heat)
1 x 2cm piece fresh Ginger, peeled (a teaspoon is ideal for this) and grated
1 clove of Garlic, peeled and crushed
3 tbsp Runny Honey
2 tbsp Sesame Oil
1 tbsp Sunflower Oil
1 tbsp Soy Sauce
400g Greendale Diced Pork
2 Red Peppers
3 medium Tomatoes
A small bunch of fresh Mint, leaves only
A small bunch of fresh Basil, leaves only
A large bunch of fresh Coriander
5 Spring Onions, trimmed and sliced finely
4 servings from a pack of Rice Noodles
2 tbsp Sesame Seeds
1 lime, halved
Method
In the base of a dish large enough to hold all the diced pork, mix together the chilli, ginger, garlic, honey, soy sauce and sunflower oil, with one tbsp of the sesame oil. Tip the pork into the dish and stir it around so that all the meat is coated evenly, then cover the dish with clingfilm and refrigerate for 30 minutes. Place a shallow pan over a medium heat and, when hot, add the sesame seeds – heat them for a few minutes, stirring to avoid burning, until they are golden and smell toasted and fragrant. Tip the seeds on to a saucer and leave them to cool. While the pork is in the fridge, you can get on with making the salad. First, trim and de-seed the peppers, then slice them finely; next, chop the tomatoes in half, scoop out and discard the seeds, then cut the flesh into small dice; finally, slice the spring onions thinly and tear the herbs. Put all the salad ingredients into a large bowl and set aside.
Preheat your oven to 180°C (Gas Mark 4). Cook the noodles according to the pack instructions (usually they will only need a minute or two in boiling water), then rinse them in cold water and drain. Next, place a shallow, oven-proof pan over a medium-high heat and add the diced pork, turning the pieces over so that they are each seared and coloured on every side. Transfer the pan to the hot oven and cook for 10 minutes, until the meat is cooked through. While the meat is in the oven, toss together the noodles and the salad ingredients and tip them on to a serving dish. As soon as the pork is ready, pile it on top of the salad and noodles, spooning over any cooking juices from the dish. Drizzle over the remaining sesame oil, squeeze over the juice from the lime halves and scatter over the sesame seeds, then serve straight away.
Come and see us
Greendale Farm Shop
Sidmouth Road
Nr. Farringdon
Exeter
EX5 2JU
Opening hours
Mon 8am-8pm | Tues-Sat 8am-10pm | Sun 9am-7pm