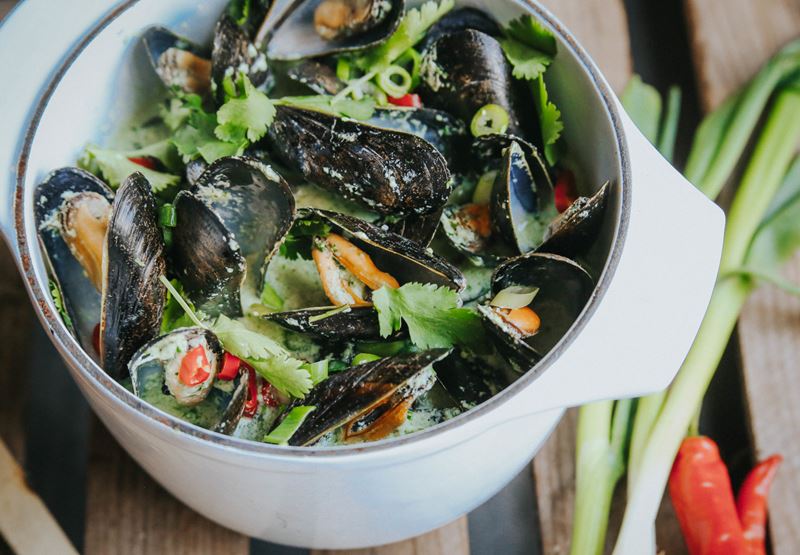 Mussels with Thai Spices Recipe
Greendale's Mussels are supplied by the award-winning (and very local) Exmouth Mussels. Fresh from the River Exe, these plump little shellfish are full of flavour; we like them best in light, simple recipes, such as this easy Thai-inspired recipe - a fragrant and tasty treat! Serves 4.
Posted by:

John Williams

Posted on:
Ingredients
2kg Exmouth Mussels
1 x 400ml can Coconut Milk
1 Dessertspoon Thai Green Curry Paste
300ml Chicken or Vegetable Stock
1 small Red Chilli, finely sliced
2 cloves Garlic, crushed
2 Spring Onions (whites only), very finely sliced
I small bunch fresh Coriander, finely chopped
Method
First, prepare your mussels by cleaning and, if necessary, debearding them. Place the mussels in a colander in the sink and run them under cold water, washing them to get rid of any debris on their outer shells. Drain the mussels and give each one a gentle tap; live mussels will close when tapped, so discard any that remain open. You may need to remove the beard from your mussels (a mussel 'beard' is a thin membrane that protrudes slightly from the shell). To remove a beard, simply grasp it firmly and pull it downwards towards the hinged-end of the mussel shell, until it comes out. Discard the beards.
Next, take a large bowl and pour in a splash of coconut milk. Add the curry paste and whisk it into the milk until the two are well combined. Whisk in the rest of the coconut milk, a little at a time, then steadily add the stock, whisking as you go.
Place a large, deep saucepan (with a lid) over a high heat. Add the mussels, and pour in the coconut milk, stock and curry paste mixture. Put the lid on the pan and bring it to the boil. Leave it to cook for about three minutes, then remove the lid, add the chilli and garlic and stir the mussels carefully. Continue to boil for a couple more minutes, or until most of the mussels have opened (remove and discard any that remain closed after cooking).
Tip the mussels and their fragrant broth into a serving bowl, scatter over the spring onions and coriander, and serve immediately.
Come and see us
Greendale Farm Shop
Sidmouth Road
Nr. Farringdon
Exeter
EX5 2JU
Opening hours
Mon 8am-8pm | Tues-Sat 8am-10pm | Sun 9am-7pm