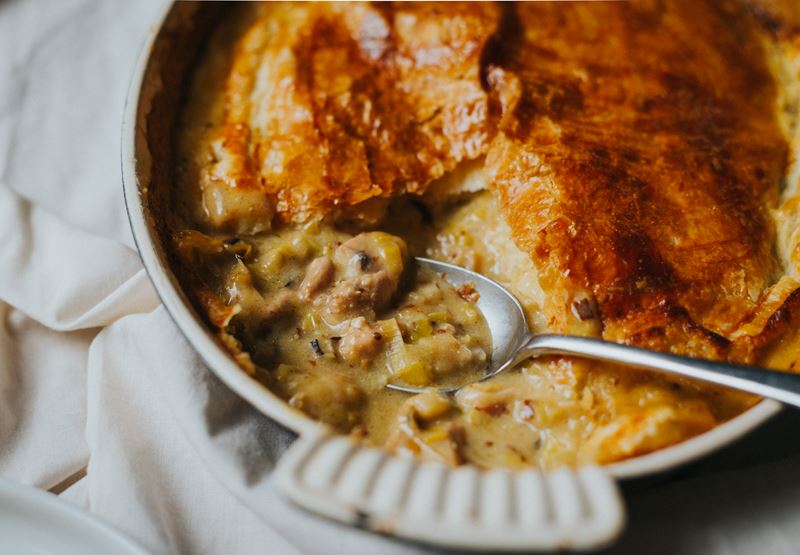 Chicken & Leek Pot Pie Recipe
This delicious, savoury pie is pretty straightforward to put together (you can even make the filling ahead of time and refrigerate it until needed). Serve with salad or your favourite seasonal veg. Serves 4.
Posted by:

John Williams

Posted on:
Method
Preheat the oven to 200°C (Gas Mark 6), and fill and boil your kettle. Place a large saucepan over a medium heat and add 2tbsp of olive oil. Add the leeks, thyme and a pinch of salt, then lower the heat a little and cook gently, stirring from  time to time, until the leeks are soft (about 10 minutes). Transfer the cooked leeks to a dish or plate and set aside.
Next, put the pan back on a medium heat and add the remaining tablespoon of oil. Add the chicken pieces and cook for about 10 minutes, or until the meat is golden all over. Make up the stock with hot water from the kettle. Put the leeks back into the pan, then sprinkle over the flour and cook, stirring, for about a minute. Pour in the hot stock gradually, still stirring, and increase the heat to bring the pan up to the boil. Reduce to a simmer and cook for 2-3 minutes, then take the pan off the heat and stir in the crème fraiche, peas and mustard. When the pan has cooled a little, check you are happy with the seasoning, then tip the contents into an oven dish. Roll out the pastry until it is large enough to make a 'lid' for the dish, then carefully place it on top of the dish and crimp around the edges (pinch-and-twist with your fingers, or just press down with the prongs of a fork). Use the tip of a knife to make three small air holes in the middle of the lid, then brush with the beaten egg. Put in the hot oven and cook for about 35 minutes, or until the filling is piping hot and the pastry is golden.
Come and see us
Greendale Farm Shop
Sidmouth Road
Nr. Farringdon
Exeter
EX5 2JU
Opening hours
Mon-Sat 8am-10pm | Sun 9am-10pm