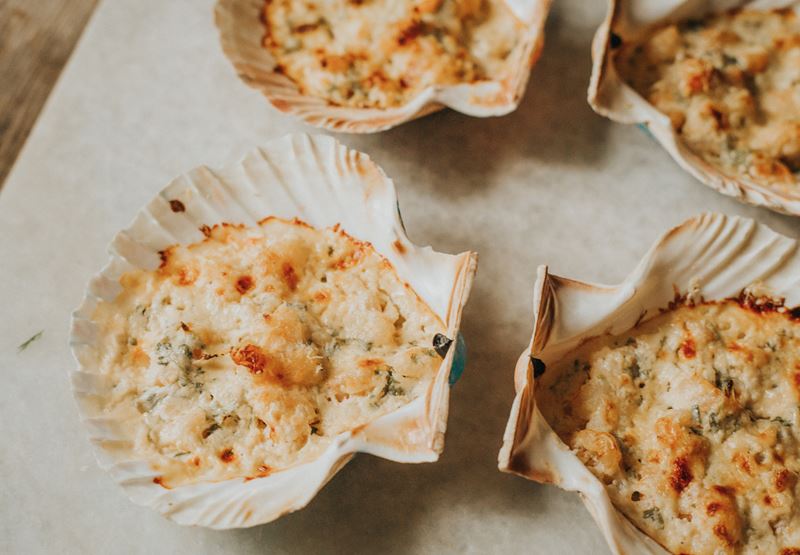 King Prawn & Lobster Shells
Luscious lobster and king prawns in a rich, creamy white-wine sauce, all served on a scallop shell. What a treat! Serves 4.
Posted by:

John Williams

Posted on:
Method
Roughly chop the prawns. Place a saucepan on a medium heat and add a good splash of olive oil. When the oil is hot, lower the heat slightly and add the chopped prawns to the pan, then cook (stirring) for a few minutes until they are pale pink and cooked through. Stir the prepared lobster meat into the pan and warm it through, then take the pan off the heat and let it rest while you make the sauce.
In a fresh pan on a medium-low heat, melt the butter then stir in the shallot and cook until soft and translucent. Pour in the hot stock, the wine and the double cream, stir well and bring the pan gently up to the boil. Lower the heat slightly and let the sauce simmer, stirring every so often, until it has reduced by about half. Stir in the lemon juice, mustard and parsley and season to your liking with salt and pepper.
Pre-heat the grill. Pour the sauce into the pan containing the cooked prawns and lobster and mix everything well to combine. Divide the mixture evenly between the cleaned scallop shells, then grate a little parmesan over the top of each shell. Place them under the hot grill for a few minutes until the cheese is just golden brown and the sauce is bubbling, then serve straight away with plenty of crusty bread.
Come and see us
Greendale Farm Shop
Sidmouth Road
Nr. Farringdon
Exeter
EX5 2JU
Opening hours
Mon-Sat 8am-10pm | Sun 8am-9pm