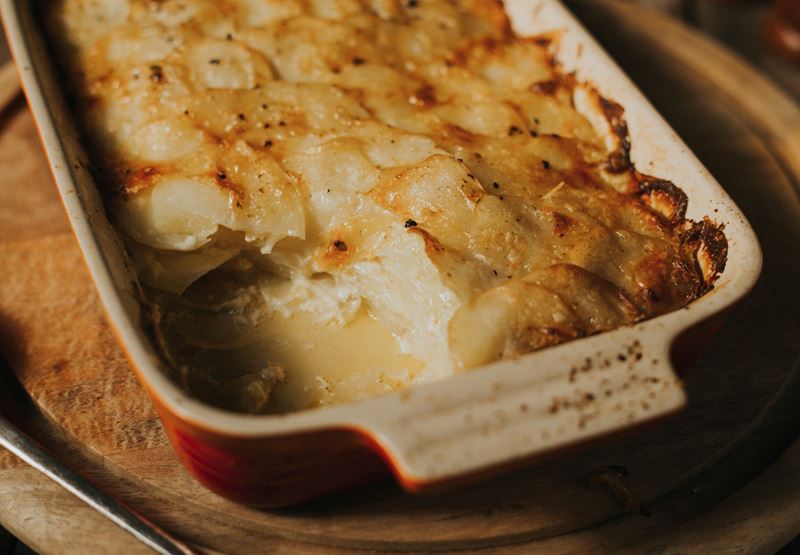 Gruyère Gratin Dauphinois
Slightly lighter than the original recipe, this simple side dish is still hearty and delicious. Serves 4.
Posted by:

John Williams

Posted on:
Method
Preheat the oven to 180°C (Gas Mark 4). Peel the potatoes, then slice them finely (about 4mm thick – a mandolin is good for this). Melt the butter in a small pan, then brush half of it all over the insides of a wide, shallow gratin dish. Crush the garlic cloves and spread them across the base of the dish, then arrange the potato slices across the bottom of the dish, overlapping them slightly like fish scales. Season with salt, pepper and grated nutmeg, then arrange another layer on top. Season as before, and keep going until you have used up all the potato slices, seasoning each layer. Next, tip the cream into the pan with the remaining melted butter, swirl to mix, then pour over the potatoes. Grate the Gruyère cheese and scatter it across the top, then cover the dish with foil and bake in the hot oven for an hour. Remove the foil, return the dish to the oven and cook for about 20 minutes more, or until the potatoes are golden brown on top.
Be inspired…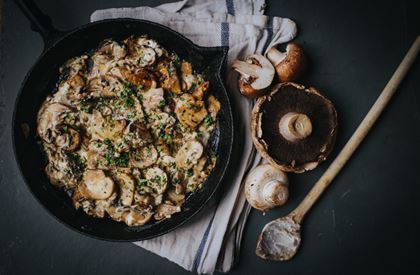 Quick to make, this indulgent-tasting and delicious dish makes a lovely (and easy) supper with some crusty bread and a few salad leaves – it's also a good side vegetable for roast beef or pork.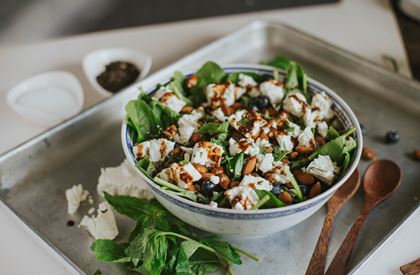 Fruit and cheese are a match made in heaven. This recipe pairs salty, crumbly Feta cheese with the tangy sweetness of ripe, fresh blueberries.
Come and see us
Greendale Farm Shop
Sidmouth Road
Nr. Farringdon
Exeter
EX5 2JU
Opening hours
Mon-Sat 8am-9pm | Sun 9am-8pm