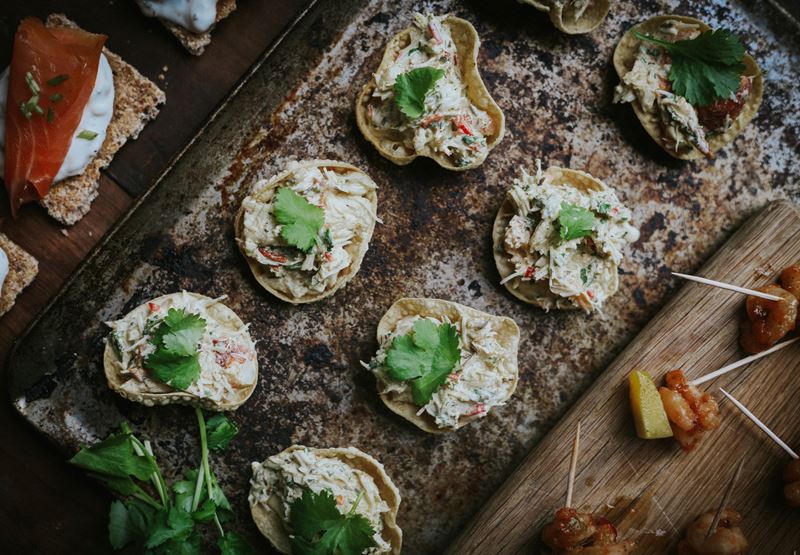 Poppadom Crab
Perfect little mouthfuls of spice and crunch, these tasty crab bites are quick to put together (especially as you can make the crab mixture up to three hours in advance and keep it in the fridge) – but don't assemble them until you're ready to serve, or the poppadoms will become soggy.
Posted by:

John Williams

Posted on:
Ingredients
100g Greendale White Cooked Crab Meat
½ small Red Chilli, de-seeded and chopped very finely
1 Lime, zest only
Fresh Coriander leaves, washed and chopped finely (you need enough to give about half a tablespoon when chopped), plus a few left whole to garnish
½ tsp Mild Curry Powder
½ tsp Cumin Seeds
Pinch of Garam Masala Powder
3 tsp Crème Fraîche
Sea Salt and freshly ground Black Pepper, to taste
1 large pack of Mini Poppadoms
Method
Mix together all the ingredients except the poppadoms and season to taste with salt and pepper. Put a small spoonful of the crab mixture into each of the poppadoms, then arrange them on a serving platter and garnish with the remaining coriander leaves. Enjoy!
Be inspired…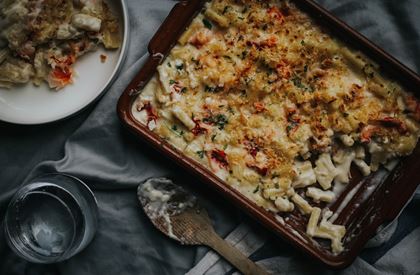 Elevate humble Macaroni Cheese to an altogether more luxurious level with the addition of a whole locally-caught Greendale lobster! There are more complicated versions of this recipe out there, but (because of the time it takes to prep the lobster) we've tried to keep it simple.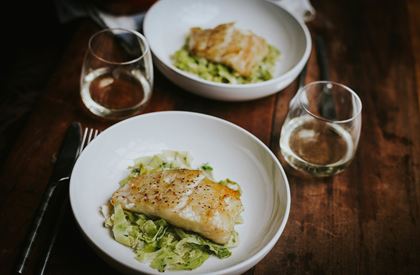 There's nothing Mitch Tonks doesn't know when it comes to cooking fish – thoughtful, unfussy and a joy to eat, his recipes always let the seafood shine. Here, simply-cooked Pollack is plated with just-wilted greens and a buttery, mustard-spiked sauce – delicious! Serves 2.
Come and see us
Greendale Farm Shop
Sidmouth Road
Nr. Farringdon
Exeter
EX5 2JU
Opening hours
Mon-Sat 8am-8pm Sunday 9am-6pm