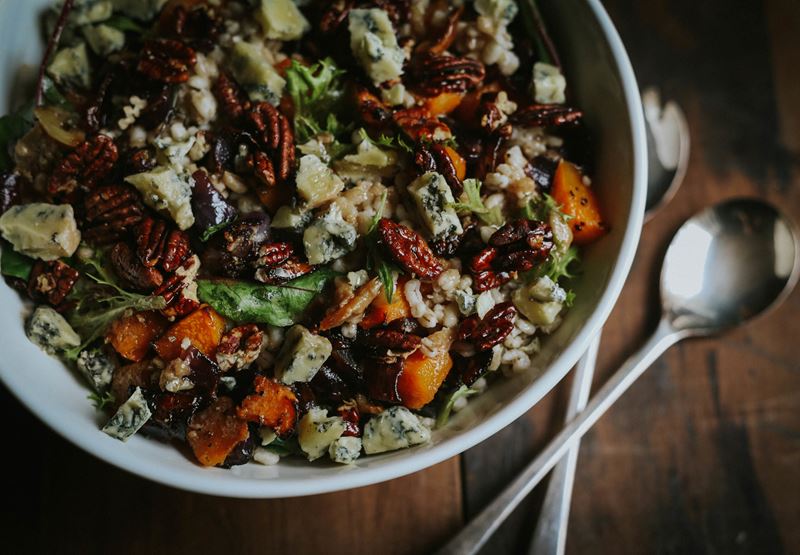 Butternut Barley Salad Recipe
An altogether different dish to the lighter, leafier salads of summer – but a salad nonetheless – this is a satisfying meal of tasty seasonal delights, topped with a savoury sprinkling of delicious Devon Blue (a rennet-free cheese). Serves 4-6.
Posted by:

John Williams

Posted on:
Method
Heat the oven to 200°C (Gas Mark 6). Put the pecans on a baking sheet, drizzle over the maple syrup, scatter over a generous pinch of salt and a few good grinds of the pepper mill, then turn gently with your hands to coat. Put the tray in the oven for 5-10 minutes (check after five minutes), or until the nuts are a little darker, but not burnt, and smelling toasted and fragrant. Scrape the nuts on to a plate to cool straight away (if you leave them on the tray, they will set hard) and set aside, leaving the oven on.
Next, start the barley cooking according to the pack instructions. Peel the squash and cut the flesh into bite-sized chunks, discarding any seeds. Trim and peel the onions, then cut them into small wedges roughly the same size as the squash pieces. Put the squash and onion into a roasting tray, throw in the whole garlic gloves and drizzle over the light olive oil. Season with salt and pepper, toss to coat, then put the tray into the hot oven to cook for 30-40 minutes – turning halfway through – or until the vegetables are tender and turning golden brown in places. Remove the cooked veg from the oven and take out the garlic cloves, then stir in the thyme leaves and set aside to cool.
To make the dressing, put the balsamic vinegar, mustard and extra virgin oil into a measuring jug or small bowl, and whisk together with a fork. Take the garlic gloves you removed from the tray of cooked squash and onion, and squeeze them out of their skin and into the dressing. Add salt and pepper to the dressing, to suit your taste, then whisk again, using the fork to squidge the softened garlic so that the finished dressing is not too lumpy. By now the barley should be ready, so drain it well, removing as much water as you can. Tip it into a serving bowl or platter and then add the cooked squash and onions and the salad leaves. Pour over the dressing and toss everything together to combine, then scatter over the maple pecans – breaking them up a little as you go – and crumble over the blue cheese before taking to the table.
Come and see us
Greendale Farm Shop
Sidmouth Road
Nr. Farringdon
Exeter
EX5 2JU
Opening hours
Mon-Sat 8am-10pm | Sun 8am-9pm