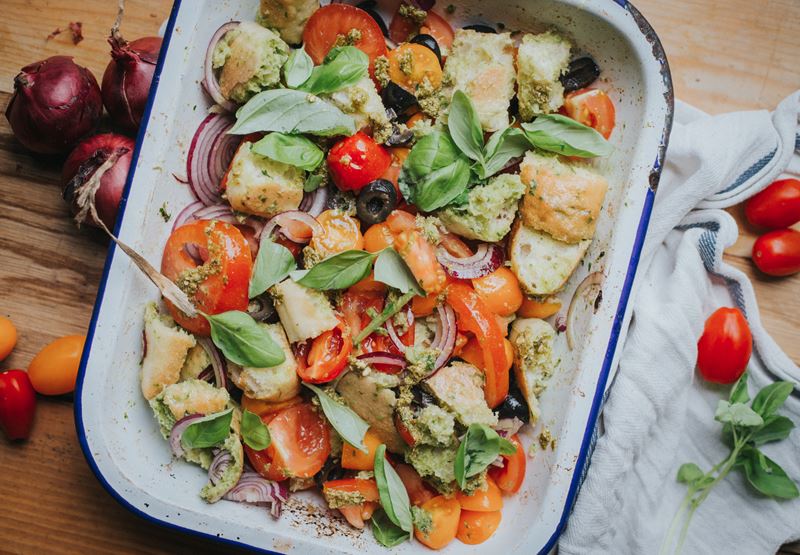 Panzanella Recipe
Panzanella is an old Italian recipe; it uses relatively few ingredients, so it's worth seeking out the juiciest, ripest tomatoes and the best olive oil you can find. Panzanella makes a lovely light meal just as it is, but you can also serve it alongside grilled halloumi or goats' cheese, baked feta, grilled chicken or sliced cold meats. However you choose to eat your Panzanella, be sure to do it as soon as it's ready – this is not a dish that should be left to sit. Serves 4
Posted by:

John Williams

Posted on:
Ingredients
Small bunch fresh Basil, leaves only
4 tbsp Extra Virgin Olive Oil, plus a little extra
1 tbsp Capers, rinsed and drained
4 thick slices of open-textured Bread (ciabatta is ideal), torn into roughly even chunks
500g Tomatoes, washed (if you can get them, a mixture of different colours, shapes and sizes will look great, but the most important thing is that they are really ripe)
60g pitted Black Olives, sliced
One small Red Onion, peeled and sliced very thinly
1 tbsp Red Wine Vinegar
Sea Salt and freshly ground Black Pepper
Panzanella makes a lovely light meal just as it is, but you can also serve it alongside grilled halloumi or goats' cheese, baked feta, grilled chicken or sliced cold meats.
Method
Put the tomatoes in a large, shallow bowl or baking dish (so you can catch all the juices) and cut them into even slices. Give some of them a bit of a squeeze, so that they release more juice and seeds.
Reserve five of the basil leaves, then put the rest of them into a food processor with the olive oil and the capers. Blend until the leaves and capers are finely chopped and the oil is green, then tip half of the mixture into a large bowl, add the chunks of bread and use your hands to mix, turning the bread so that it is evenly coated in the oil.
Add the sliced olives and red onion to the bowl containing the tomatoes, together with a dash more olive oil, and mix together. Next, tip the oil-coated bread into the bowl, then shake over the vinegar and mix everything gently with your hands until the bread is coated in all the juices. Season to your taste with the salt and pepper, then transfer the salad to a serving dish, drizzle over the unused half of the herb oil and tear over the reserved basil leaves. Serve immediately.
Come and see us
Greendale Farm Shop
Sidmouth Road
Nr. Farringdon
Exeter
EX5 2JU
Opening hours
Mon-Sun 7am-11pm