Puff Pastry Tart with Vegetables & Feta
This recipe uses ready-made puff pastry to help keep things simple. It'll make one very large tart; if you don't eat it all, leftovers can be refrigerated for the next day. Serves 2-4.
Posted by:

John Williams

Posted on:
Ingredients
1 pack ready-rolled Puff Pastry sheet
4 small Banana Shallots, peeled, trimmed and quartered
4 cloves Garlic, peeled, trimmed and thinly sliced
200g Mushrooms, stalks removed, wiped and cut into small, even chunks
1 Red Pepper, trimmed, de-seeded and cut into bite-size chunks
1 Yellow Pepper, trimmed, de-seeded and cut into bite-size chunks
100g Baby Plum or Cherry Tomatoes, halved
Small bunch of fresh Thyme (6-8 sprigs), leaves only
Rapeseed Oil
100g Feta Cheese
1 tbsp Milk
Sea Salt and freshly ground Black Pepper, to taste
Salad Leaves (to serve)
Method
Preheat the oven to 200°C (Gas Mark 9). Lightly grease a large baking tray with the oil, then lie the pastry sheet on the tray and, using the point of a sharp knife, score a border about 2cm from the edge all the way round. Put the pastry tray into the fridge while you get on with the veg.
Take another large baking tray and put the shallots, mushrooms and peppers on to it. Add the thyme, drizzle with about two tablespoons of rapeseed oil and season with salt and pepper, then give everything a good mix to ensure it is all evenly coated with the oil. Put the vegetables into the hot oven and cook for 10 minutes, until they have begun to soften and colour. Take the tray out of the oven and add the tomatoes and garlic slices to it, mixing them in well, then return them to the oven for another five minutes. At the same time, remove the pastry tray from the fridge, brush it all over with the milk and prick the pastry inside the 'border' with a fork, then put it into the oven on a shelf below the veg for the five minutes of tomato-cooking time.
When the five minutes is up, remove both trays from the oven. Tip the vegetables into the middle of the tart case (keeping them off the border), then crumble over the feta. Put the tart back into the oven and cook for 15-20 minutes, until the cheese has started to colour, the pastry is golden brown and the vegetables are cooked through. Cut slices according to appetite and serve hot, with the salad leaves on the side.
Be inspired…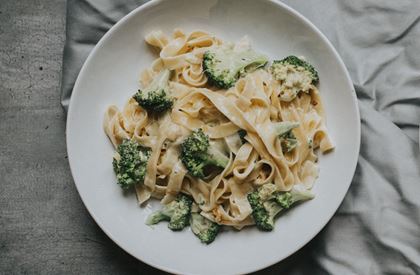 This rich, indulgent pasta dish is just the ticket for a cosy evening in. If you can't find tagliatelle, fettucine, spaghetti or linguine will all work just as well.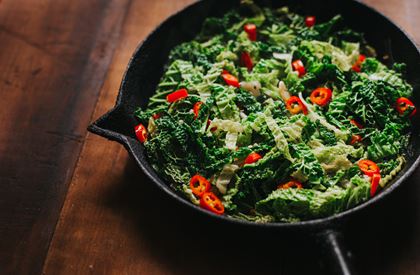 The dark-green, knubbly leaves of Savoy Cabbage are rich in vitamins and minerals and are cooked quickly over a high heat, with a couple of flavourful additions for a fast and simple side-dish.
Come and see us
Greendale Farm Shop
Sidmouth Road
Nr. Farringdon
Exeter
EX5 2JU
Opening hours
Mon-Sat 8am-8pm Sunday 9am-6pm