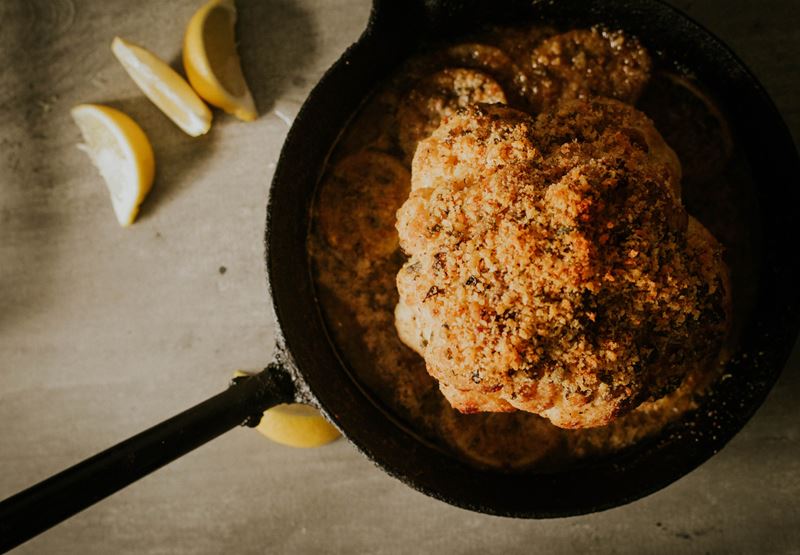 Whole Roast Cauliflower Recipe
Put veg centre-stage with this impressive looking (but very easy) vegetarian recipe. The cauliflower is briefly pre-cooked before it goes into the hot oven, so it soaks up loads of garlicky, buttery flavour as it roasts. The topping is quick and easy to make, so this is a relatively stress-free meal – you can roast some parboiled potatoes or parsnips alongside the cauliflower to accompany it, or steam carrots, peas or beans on the hob during the last few minutes of its cooking time. Serves 4.
Posted by:

John Williams

Posted on:
Ingredients
100g Bread (we like Sourdough), torn into chunks and briefly blitzed in a food processor to give fairly chunky crumbs
1 large Cauliflower, stem lightly trimmed but otherwise left intact
20g Unsalted Butter
Small bunch of fresh Flat-Leaf Parsley, washed, leaves picked and chopped finely
½ a Lemon, juiced and zested (see below)
Salt and freshly-ground Black Pepper, to taste
For the Garlic and Caper Butter:
1 tbsp Rapeseed Oil
70g Unsalted Butter, softened
1 tbsp Capers from a jar in brine, rinsed and patted dry with kitchen roll and chopped finely
3 cloves of Garlic, peeled, trimmed and chopped finely (or crushed)
The zest from the ½ lemon (above)
Salt and freshly-ground Black Pepper, to taste
Method
Fill and boil your kettle, and preheat the oven to 220°C (Gas Mark 7). Place the cauliflower in a large saucepan and pour over enough boiling water to cover, then put the pan over a medium-high heat and cook the cauliflower until just tender (about 5 minutes, or slightly longer if it's really big). Alternatively, if you have a large enough steamer basket to hold a whole cauliflower, you can steam it over a pan of boiling water for 5 minutes. However you cook it, the cauliflower should just be starting to become tender, yielding when pierced with the point of a sharp knife. Drain the cauliflower thoroughly and pat it dry with kitchen roll, then sit it in a roasting tin and set aside for a moment.
To make the garlic and caper butter, put the oil, softened butter, capers, garlic and lemon zest into a mixing bowl and beat them together until well combined, then season to taste with salt and pepper. Next, spread the butter mixture all over the cauliflower, making sure there is plenty on the top. Put the cauliflower into the hot oven and roast for about 25 minutes, or until it is nicely golden; when it has been cooking for 10 minutes or so, lift the cauliflower out of the oven and baste it with its juices, spooning them over the top, before replacing it in the oven for the remainder of the cooking time.
When the cauliflower is almost cooked, put the 20g of butter into a frying pan and melt over a low heat. Add the breadcrumbs, chopped capers and lemon zest, turn the heat up slightly and fry until the crumbs are crisp and golden. Take the pan off the heat and stir in the parsley, then season to taste with salt and pepper. Take the cooked cauliflower out of the oven and place on a serving dish, pouring any juices from the roasting tin over the top of it. Shake over the lemon juice, then scatter over the crumb topping. Let it sit for a couple of minutes, then take it to the table so guests can 'carve' a slice for themselves.
Be inspired…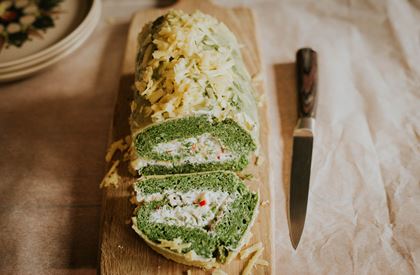 With its festive colouring and yule-log shape, tasty Spinach Roulade won't look out of place on your Christmas table.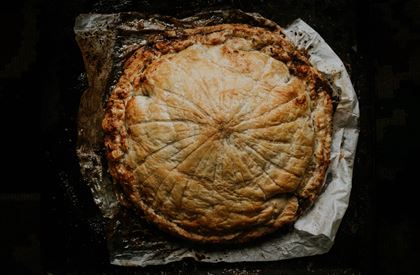 Its distinctive shape and decorative pattern make it a stand-out centrepiece on any table, vegetarian or otherwise.
Come and see us
Greendale Farm Shop
Sidmouth Road
Nr. Farringdon
Exeter
EX5 2JU
Opening hours
Mon-Sat 8am-8pm Sunday 9am-6pm