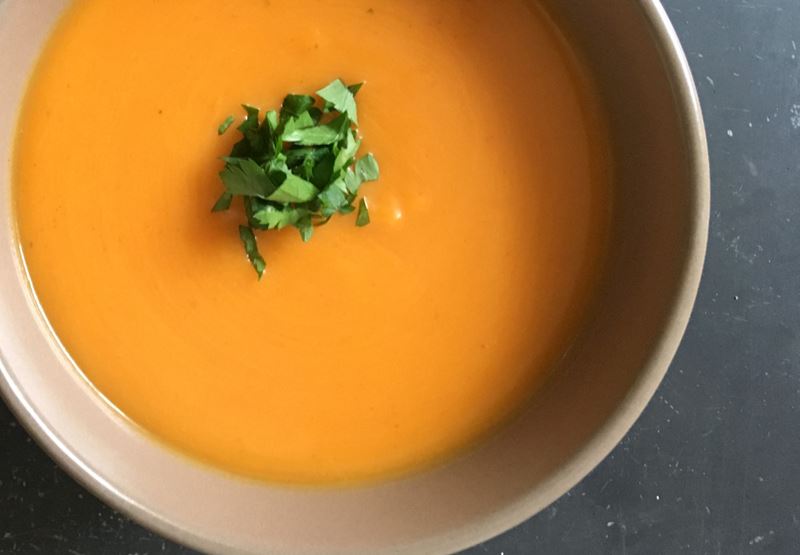 Roast Pumpkin Soup
The UK has a fairly short pumpkin season, but there are lots of beautiful, delicious-tasting varieties out there. Leave the giant orange jack-o'-lanterns at the supermarket, and seek out the smaller, sweeter pumpkins and squashes for this richly coloured autumnal soup. Serves 4.
Posted by:

John Williams

Posted on:
Method
Peel the pumpkins or squash, then chop them into small, evenly-sized chunks, discarding any stringy pulp or seeds. Put the oil into a large saucepan and heat it briefly, then add the onion and the diced pumpkin. Add the butter to the pan, stir it in, then let the vegetables cook over a gentle heat until they start to turn golden – this will take a while, and although browning and caramelising is good, you may need to add more butter or oil if you find the veg is sticking too much to the bottom of the pan. Next, pour in the stock, bring the pan up to the boil, then reduce the heat slightly and leave to simmer for about 20 minutes. Allow the soup to cool a little, then blend to your preferred consistency, adding more hot vegetable stock if wished. Check the seasoning and add salt and pepper to taste, then serve sprinkled with a little smoked paprika for extra autumn colour.
Be inspired…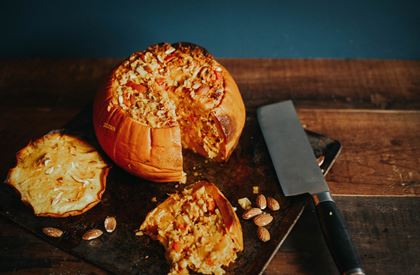 An impressive-looking (and delicious) vegetarian centrepiece for any autumn table! Serve this baked pumpkin with salad leaves or green veg and some plain yoghurt for a hearty, healthy meal.
Come and see us
Greendale Farm Shop
Sidmouth Road
Nr. Farringdon
Exeter
EX5 2JU
Opening hours
Mon-Sun 7am-10pm