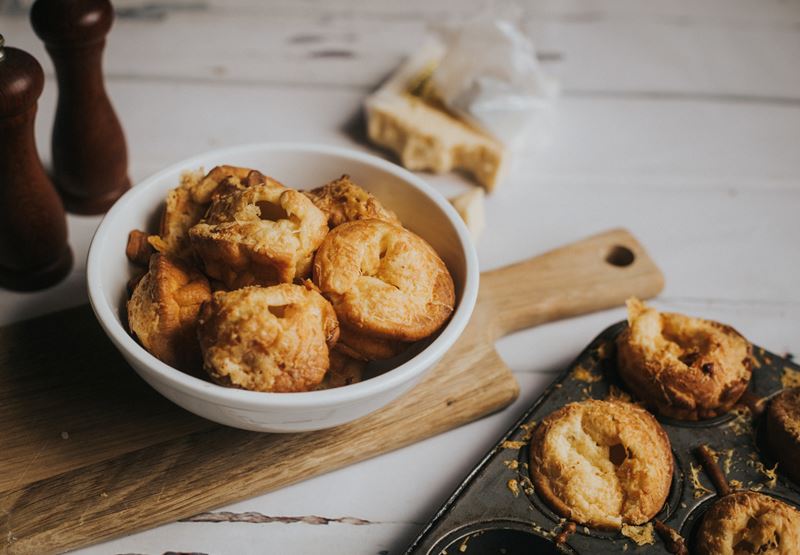 Yorkshire Puddings with Hawkridge Cheddar
Representing deliciousness from the two largest counties in the UK, these easy individual Yorkshire puddings will make a super side-dish for your next Sunday roast.
Posted by:

John Williams

Posted on:
Method
First, preheat the oven to 220°C (Gas Mark 8). Drizzle a little oil into the holes of a six-hole Yorkshire pudding or muffin tin, brushing it up the sides of each hole with a pastry brush. When the oven is up to temperature, put the tin in the oven and leave it to get hot while you make the batter.
Take a large mixing bowl and sieve in the flour, then season with salt and pepper. Make a well in the centre of the flour, then crack in two of the eggs and add a splash of milk. Whisk to combine, then add the rest of the eggs two at a time, together with a bit more milk, whisking as you go. Add the rest of the milk in a slow and steady stream, whisking until you have a smooth batter without any lumps. If possible, transfer the batter to a large jug (this makes it easier to fill the tin, but if you don't have a jug large enough, a ladle is fine).
By now, the tin will be hot; very carefully, lift it out of the oven and on to a chopping board or similar heat-proof surface. Pour or ladle the batter into the holes in the tin, dividing it evenly between them, then return the pan to the oven and bake for 25 minutes – try really hard not to open the door, as this will stop the puddings rising properly (if you need to check, open the door just the tiniest crack). The puddings will be nicely puffed up and golden when they're ready; take them out of the oven, then turn the oven down to 200°C (Gas Mark 6). Sprinkle the grated cheese over the top of the puddings, then return them to the oven and cook for a further five minutes, before serving.
Come and see us
Greendale Farm Shop
Sidmouth Road
Nr. Farringdon
Exeter
EX5 2JU
Opening hours
Mon 8am-8pm | Tues-Sat 8am-10pm | Sun 9am-7pm