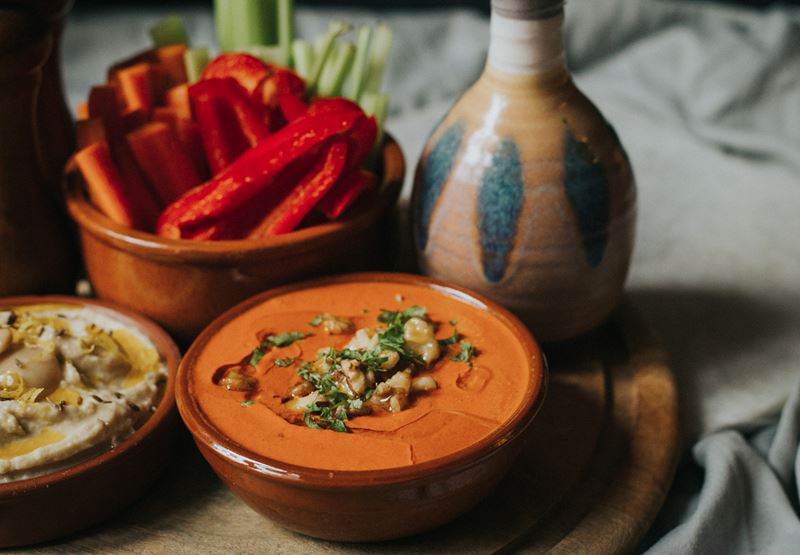 Red Pepper & Walnut Dip Recipe
Inspired by Muhammara, a traditional Syrian recipe, this smoky dip is vibrantly coloured and tastes amazing. And in case you need an excuse to try it, it's pretty good for you, too! Serves 8 as part of a spread.
Posted by:

John Williams

Posted on:
Ingredients
1 tsp Cumin Seeds
240g Roasted Red Peppers from a jar, drained (or if you have time, you can make your own)
½ tsp Ground Cumin
½ tsp Ground Coriander
2 tsps Sweet Smoked Paprika
100ml Extra-Virgin Olive Oil
125g Walnuts
1 tbsp Tomato Purée
1 clove Garlic, peeled and crushed
2 tbsp Red Wine Vinegar
Sea Salt and freshly ground Black Pepper, to taste
A few sprigs fresh Flat-Leaf Parsley, leaves only, finely chopped
Method
Place a small saucepan over a medium-high heat and add the cumin seeds. Cook them for a few minutes, shaking the pan often, until they smell toasted and fragrant (it doesn't take long). Next, add the olive oil and the smoked paprika to the pan, warm through, then take off the heat.
Put the remaining ingredients into the bowl of a food processor, then, with the motor running, pour in the cumin and paprika-scented olive oil. Blend to a smooth consistency (add a splash of cold water to loosen if it seems too thick), then season to your taste with salt and pepper. Spoon the dip into a serving bowl and scatter the parsley over the top before taking to the table.
Come and see us
Greendale Farm Shop
Sidmouth Road
Nr. Farringdon
Exeter
EX5 2JU
Opening hours
Mon-Sat 8am-10pm | Sun 8am-9pm