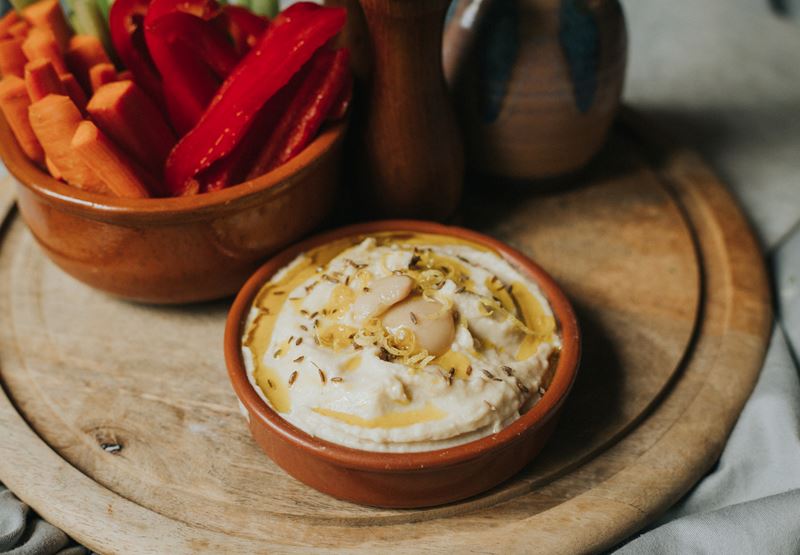 Butter Bean Dip Recipe
Blitz up this butterbean dip in minutes and serve it with crunchy raw veg, toasted pitta strips or plain crisps. Serves 8 as part of a spread.
Posted by:

John Williams

Posted on:
Ingredients
2 x 400g Butter Beans, drained and rinsed
3 fat cloves Garlic, peeled and crushed
1 tbsp Extra Virgin Olive Oil, plus a little more for drizzling
About 1 tbsp Water
½ Lemon, zested and juiced
2 tsp Sea Salt
Freshly ground Black Pepper, to taste
1 tsp Cumin Seeds
Method
Place a small saucepan over a medium-high heat and add the cumin seeds. Cook them for a few minutes, shaking the pan often, until they smell toasted and fragrant (it doesn't take long), then tip the seeds on to a plate to cool and set aside. Next, put the drained beans, crushed garlic, lemon zest and juice and the olive oil into the bowl of a food processor and blend until smooth. Add the salt, pepper and water and blend again to combine. Check you're happy with the seasoning and the consistency – add more salt and pepper if needed, and if the dip is too thick, add more water until you have a consistency you like. Spoon the dip into a serving bowl and drizzle lightly with more olive oil, then scatter the toasted cumin seeds over the top and take to the table.
Come and see us
Greendale Farm Shop
Sidmouth Road
Nr. Farringdon
Exeter
EX5 2JU
Opening hours
Mon-Sat 8am-10pm | Sun 8am-9pm