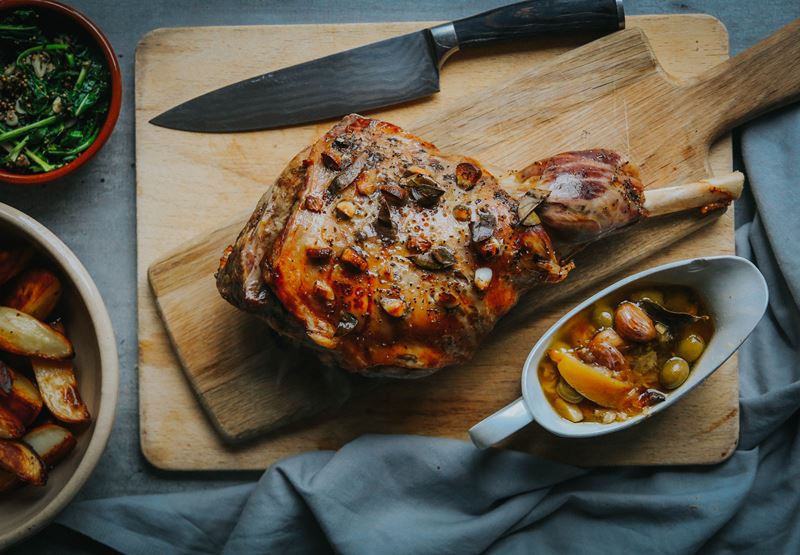 Easter Leg of Lamb with Potatoes, Olives & Lemon
Based on a traditional Greek recipe, this meltingly tender leg of lamb is slowly roasted with lemon and garlic, and richly flavoured with olives, wine and bay leaves – the perfect centrepiece for your Easter table. Serves 6.
Posted by:

John Williams

Posted on: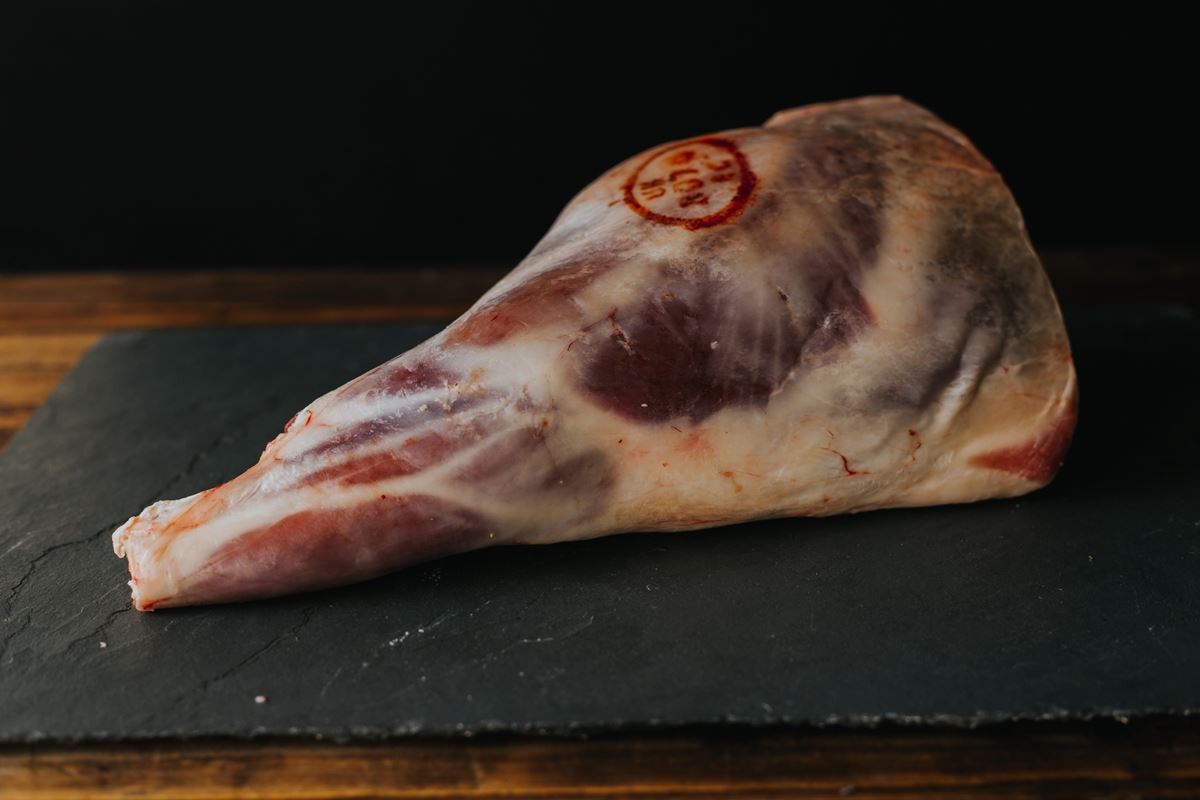 STAR INGREDIENT
Freshly prepared by our award-winning butchers, this Whole Leg of Lamb Leg is ready to roast – cook it 'low and slow' and enjoy succulent, tender and richly flavoured meat, perfect for a family dinner. Greendale lamb comes from a flock of breeding ewes, which are predominantly traditional breeds such as Suffolk's and continental X's. Hung for a minimum of ten days, the meat becomes even more flavoursome and tender. Our master butchers then prepare it on-site at Greendale Farm Shop, skilfully turning it into plump chops, classic roasts, burgers, meatballs and much, much more.
Ingredients
1 Greendale 2.4kg Whole Leg of Lamb (bone-in)
1 whole head of Garlic
8 fresh Bay Leaves
3 Large Lemons, quartered lengthways and as many pips removed as possible
50ml Olive Oil, plus a further 4 tbsp for the potatoes
1 tsp ground Cinnamon
1kg Charlotte Potatoes (or other waxy variety), peeled and quartered lengthways
140g pitted Green Olives
125ml Dry White Wine (you can substitute hot stock if preferred)
Sea Salt and freshly ground Black Pepper
Method
First, heat the oven to 220°C (Gas Mark 7). Take the garlic bulb and pull it apart. Leave half of the cloves unpeeled, and peel and slice the other half. Take a large roasting dish and place the unpeeled garlic cloves in the bottom, together with three or four bay leaves and the lemon quarters. Cover them with 200ml cold water, then place the leg of lamb carefully on top. Drizzle 50ml of the oil over the lamb and rub it in well, then season generously with salt and pepper and scatter over the cinnamon. Use the point of a sharp knife to cut small slits all over the lamb skin, then push the slices of garlic and remaining bay leaves into these slits. Cover the lamb leg and its dish tightly with foil and put it into the hot oven, and immediately reduce the oven temperature to 150°C (Gas Mark 2). Cook for four hours, occasionally skimming any fat off the juices; remove the foil for the last 30 minutes' cooking time.
When the lamb has been in the oven for an hour, put the potato wedges into a separate roasting tin, then drizzle over the 4 tbsp of olive oil and season well with salt and pepper. Give everything a good turn over to ensure the potatoes are coated evenly, then put the tray into the oven to roast alongside the lamb for one and a half (or up to two) hours. When the lamb has had its time and is cooked to your liking, lift it out of its dish and wrap it tightly in foil, then leave it to rest for about 20 minutes. Have a look at the potatoes to see if they are cooked – if not, turn the oven back up to 220°C (Gas Mark 7) for 5-10 minutes while you make the sauce. Take the dish you used for the lamb and place it on the hob, then add the wine or stock and the olives, stirring well. Bring to a simmer, then keep warm until you're ready to dish up. When the meat is rested and the potatoes are cooked, carve the lamb into thick slices and take it to the table so everyone can help themselves, together with the potato wedges and the olive sauce on the side.
Be inspired…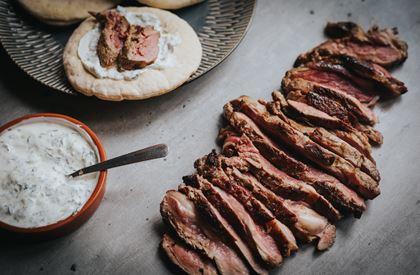 Juicy lamb works perfectly with fiery harissa and a cooling yoghurt raita in this Moroccan-inspired recipe. If you have time, leave the meat to marinate overnight for maximum flavour.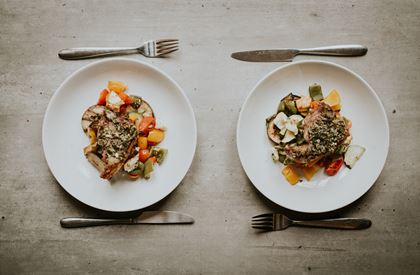 Flavoured with fresh herbs and topped with feta cheese, juicy lamb chops are cooked on a colourful bed of veg in this Mediterranean-inspired recipe. Serve it with warm ciabatta and a mixed-leaf salad - it's sure to make a delicious dinner for that special someone!
Come and see us
Greendale Farm Shop
Sidmouth Road
Nr. Farringdon
Exeter
EX5 2JU
Opening hours
Mon 8am-8pm | Tues-Sat 8am-10pm | Sun 9am-7pm