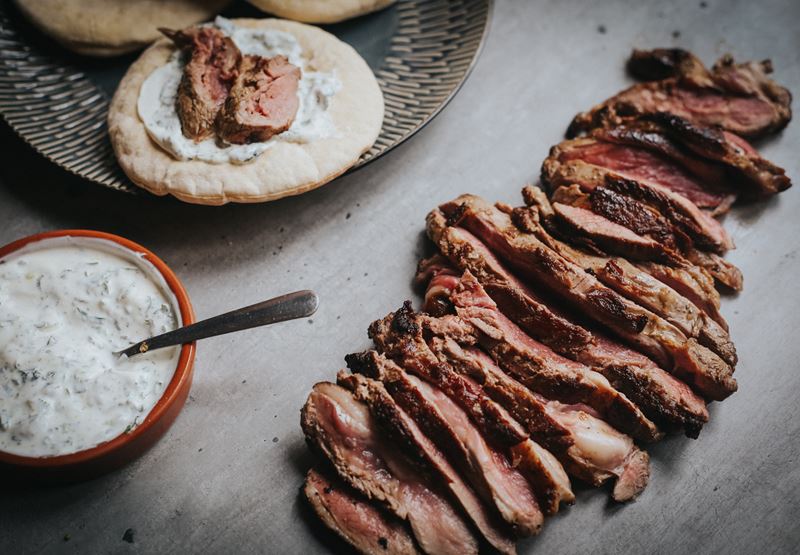 Butterflied Leg of Lamb with Mint Raita Recipe
Juicy lamb works perfectly with fiery harissa and a cooling yoghurt raita in this Moroccan-inspired recipe. If you have time, leave the meat to marinate overnight for maximum flavour. Serves 6.
Posted by:

John Williams

Posted on:
Method
Whisk together the harissa paste, oil, garlic and thyme. Lie the butterflied lamb leg flat in a large dish and season well with salt and pepper, then spoon the harissa mixture over the meat and massage it in, to coat the meat evenly. Leave the lamb to marinate for at least an hour, and ideally overnight in the fridge (bring it back up to room temperature before cooking).
When you are ready to cook the lamb, preheat your oven to 180˚C (Gas Mark 4) and heat a griddle pan. As soon as the griddle pan is really hot, put the lamb on to it and cook for a couple of minutes on each side until nicely browned. Next, put the lamb on a baking tray and cook in the hot oven for 15-20 minutes, turning it halfway through the cooking time and brushing with more marinade if you think it needs it.
Allow the cooked lamb to rest for at least 10 minutes before serving (you can cover it loosely with foil to retain heat). While the meat rests, put the pita breads into the still-warm oven to heat them through – or, if frozen, pop them in the toaster - and make the raita; put the yoghurt into a mixing bowl, then add the cucumber, mint and lemon zest. Mix gently to combine, season to taste and pour into a serving bowl.
Carve the rested lamb into thin slices and arrange on a serving platter, then take it to the table with the raita, warm pita breads and salad leaves, so that everyone can dig in and help themselves.- 
Be inspired…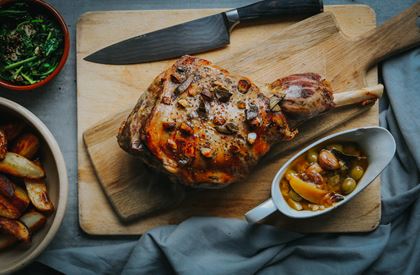 Based on a traditional Greek recipe, this meltingly tender leg of lamb is slowly roasted with lemon and garlic, and richly flavoured with olives, wine and bay leaves – the perfect centrepiece for your Easter table.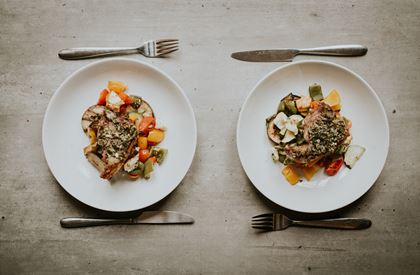 Flavoured with fresh herbs and topped with feta cheese, juicy lamb chops are cooked on a colourful bed of veg in this Mediterranean-inspired recipe. Serve it with warm ciabatta and a mixed-leaf salad - it's sure to make a delicious dinner for that special someone!
Come and see us
Greendale Farm Shop
Sidmouth Road
Nr. Farringdon
Exeter
EX5 2JU
Opening hours
Mon 8am-8pm | Tues-Sat 8am-10pm | Sun 9am-7pm