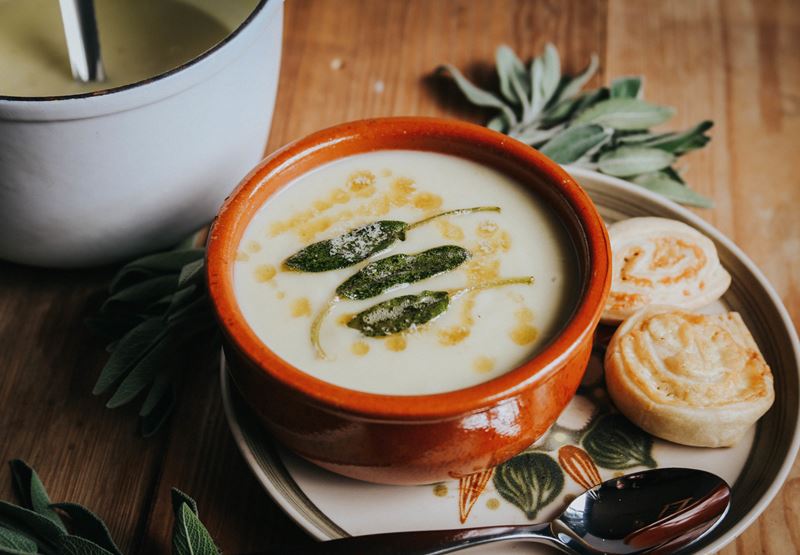 Cauliflower Soup with Crispy Sage Leaves
Creamy and savoury, this winter wonder of a soup is topped with sage-infused brown butter and crispy fried sage leaves. Serves 4.
Posted by:

John Williams

Posted on:
Method
Fill and boil your kettle, for the stock. Next, place a large saucepan over a low-medium heat, then add the butter and olive oil. When the butter has melted, put the prepared onion, celery and garlic into the pan and cook gently for 8-10 minutes, until the vegetables have become tender but have not taken on any colour. Add the cauliflower florets and potato chunks to the pan, together with the bay leaf, milk and vegetable stock. Season to your taste with salt (if needed) and freshly ground black pepper, then stir everything well to combine, half cover the pan with a lid and gently increase the heat until the pan is simmering gently. Continue to simmer for about 25 minutes, or until the cauliflower and potato are tender.
When the veg is ready, remove the pan from the heat, take out the bay leaf and leave the pan to cool. When it is cool enough to handle safely, tip the contents into a food processor and blend until completely smooth. Add the cheese, mustard and a few good gratings of nutmeg, then blend again to combine everything thoroughly. Check you are happy with the seasoning, then return the soup to its pan and leave it to keep warm on a low-medium heat.
To prepare the sage leaves, put a couple of sheets of kitchen paper on a large plate, then place a frying pan over a medium heat and add a good knob of butter. Let it melt, then quickly add the sage leaves and fry them until crisp, lifting them out on to the kitchen paper to drain.
To serve, ensure the soup is piping hot, then ladle it into four bowls. Drizzle a little of the brown butter from the sage pan on to each bowl of soup, then lie three of the crispy sage leaves on the top of each bowl and take to the table immediately.
Come and see us
Greendale Farm Shop
Sidmouth Road
Nr. Farringdon
Exeter
EX5 2JU
Opening hours
Mon-Sun 7am-10pm