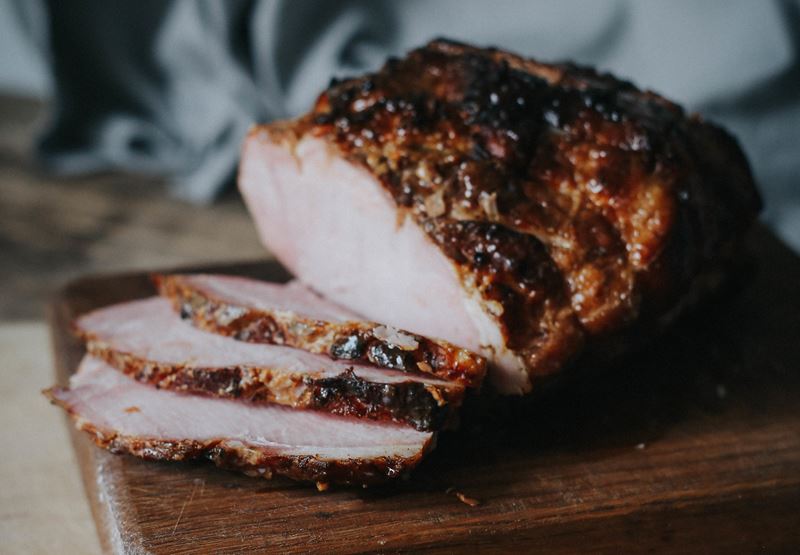 Maple-Glazed Cola Ham Recipe
Cooking a gammon joint in cola and then glazing it with spiced maple syrup may sound downright odd, but the result is deliciously more-ish! Don't let the long cooking time put you off – the recipe can be made up to two days ahead and refrigerated until needed. Serves 6-8.
Posted by:

John Williams

Posted on:
Method
Sit the gammon joint in a large pan, then pour over the cola so that the meat is totally covered. Add the prepared carrot, onion and celery to the pan, together with the cinnamon stick, Worcestershire sauce and bay leaf, then place the pan over a medium-high heat and bring it up to the boil. Lower the heat, then let the pan simmer away for 2 ½ hrs, keeping an eye on it - you may need to top up the liquid with boiling water from your kettle if the meat is not entirely covered.
When the gammon has had its time, carefully lift it out of the pan and into a roasting tin. Tip the cooking liquid away, and leave the meat to rest while you switch the oven on to preheat to 190°C (Gas Mark 5) and make the maple glaze; use a fork to whisk together the maple syrup, mustard, red wine vinegar and five-spice powder in a small bowl or jug. Next, cut away the string from the meat, then use a sharp knife to score the fat in an all-over criss-cross pattern. Pour half of the glaze over the scored fat, gently patting it in, then put the gammon into the hot oven and roast it for 15 minutes. Take the gammon out of the oven and pour more of the glaze over it (reserving a little), then put it back in the oven for a further 30 minutes, basting with the juices halfway through.
When the gammon has had its time, take it out of the oven and leave it to rest for 10 minutes, before spooning the reserved glaze over the top. Serve straight away, or store in the refrigerator for up to two days.
Be inspired…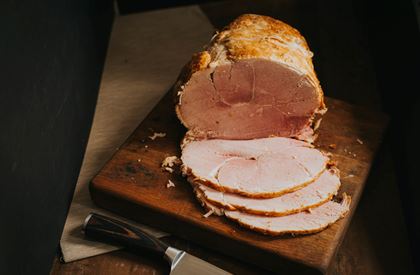 The answer is – not much! Both of these delicious and versatile cuts are taken from the pig's hind legs
Come and see us
Greendale Farm Shop
Sidmouth Road
Nr. Farringdon
Exeter
EX5 2JU
Opening hours
Mon-Sat 8am-11pm | Sun 9am-7pm