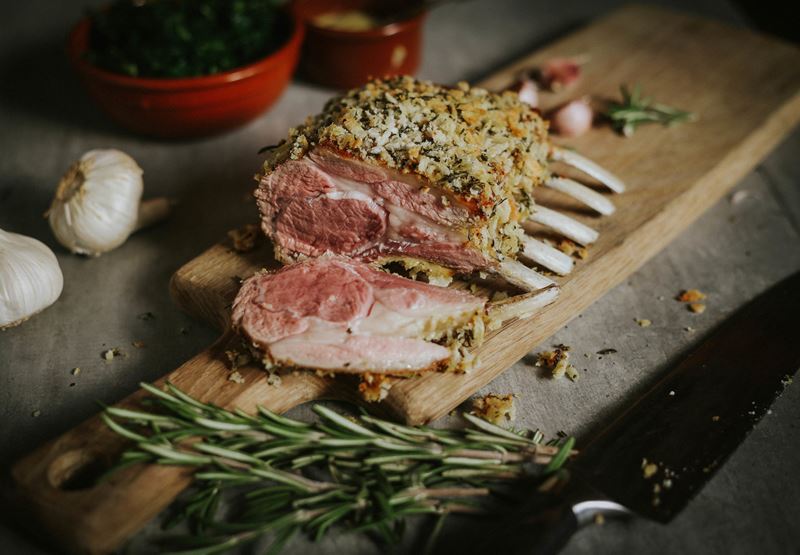 Rack of Lamb Rosemary, Dijon Mustard
Rack of Lamb always makes a great centrepiece – this recipe uses simple ingredients that really let complement the rich flavour of the meat. Serves 4.
Posted by:

John Williams

Posted on:
Method
Preheat the oven to 220°C (Gas Mark 8). Put the breadcrumbs into a mixing bowl and crush in the garlic cloves, then add the rosemary and two tbsps olive oil. Season to taste with salt and pepper, mix well, then tip on to a dinner plate and set aside.
Scatter a pinch of salt and several grinds of the pepper mill over the lamb, patting the seasoning gently into the meat. Place a large, oven-proof pan over a medium-high heat and add two tbsps. Of oil. Let the oil warm up, then put the lamb into the pan and cook for two minutes on each side, turning to ensure the meat is seared all over. Set the cooked lamb aside to rest for five minutes.
When rested and slightly cooled, brush the lamb rack with the Dijon mustard, then lift it on to the plate with the breadcrumb mixture and turn it until evenly coated all over. Wrap some foil around the ends of the exposed bones (this will prevent the bones charring during cooking).
Place the rack of lamb bones-side down in the oven-proof pan, then put it on a shelf in the centre of the preheated oven for about 20 minutes, if you want the meat to remain pink in the middle; leave it for 5-10 minutes longer if you prefer it well done. Let the meat rest for up to 10 minutes, loosely covered with foil, before carving between the ribs to serve.
Come and see us
Greendale Farm Shop
Sidmouth Road
Nr. Farringdon
Exeter
EX5 2JU
Opening hours
Mon-Sun 7am-11pm