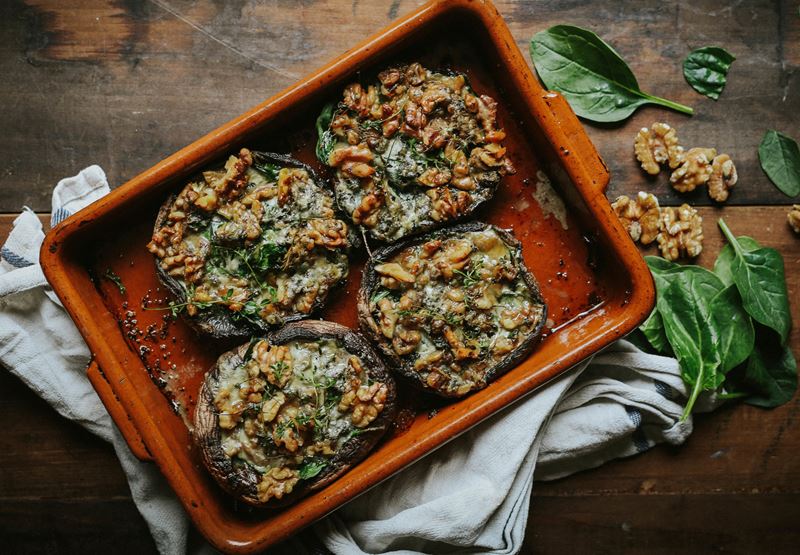 Mushrooms with Spinach & Harbourne Blue
This simple recipe makes the most of just a few special ingredients, including seasonal mushrooms and the delicious Harbourne Blue Goats' Cheese produced here in Devon by Ticklemore Dairy. Ready in moments, we like to eat this with a green salad and some crusty bread. Serves 2 (quantities can be scaled up easily to make more if needed).
Posted by:

John Williams

Posted on:
Method
Preheat the oven to 200°C (Gas Mark 6). Remove the stalks from the mushrooms and discard, then gently wipe any dirt from the mushroom skins. Place the mushrooms gills-side-up on a baking sheet and divide the spinach leaves between them, pressing them down gently into the 'cup' of each mushroom. Scatter the walnuts on top of the spinach, sharing them out equally, and crumble over the cheese in the same way. Share the thyme leaves amongst the mushrooms and grind over a little black pepper, then drizzle the filled mushrooms lightly with the oil. Put them into the hot oven for about 10 minutes, or until the mushrooms are tender, the nuts have toasted and the cheese is golden and bubbling, then serve straight away.
Come and see us
Greendale Farm Shop
Sidmouth Road
Nr. Farringdon
Exeter
EX5 2JU
Opening hours
Mon 8am-8pm | Tues-Sat 8am-10pm | Sun 9am-7pm