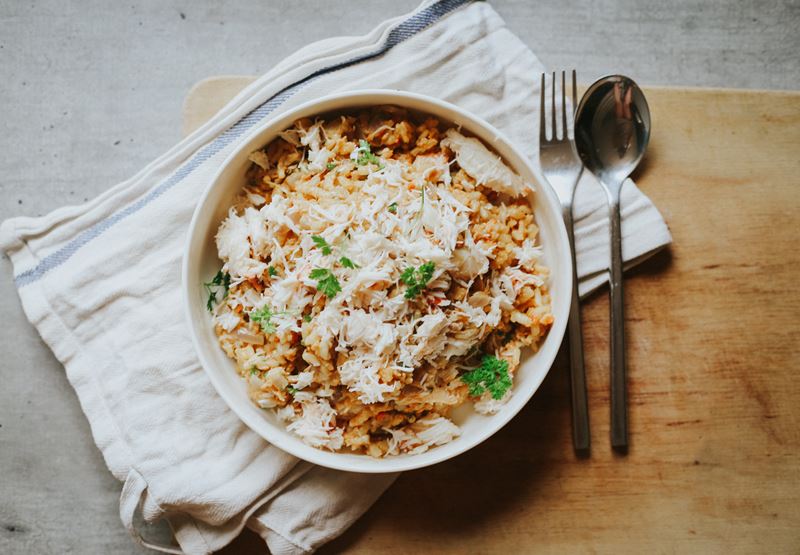 Crab Risotto Recipe
This rich, satisfying risotto is a great showcase for our lovely, locally-caught cooked crab. It's surprisingly easy to make, once you get the hang of all the stirring – and, as a bonus, there will be an open bottle of white wine to enjoy alongside it! Serves 4.
Posted by:

John Williams

Posted on:
Method
In a mixing bowl, gently beat together the brown crab meat, lemon juice and cayenne pepper (if using) until smoothly combined, then season to taste with salt and pepper. Next, put a large saucepan over a medium heat and add the oil and 50g of the butter. When the butter has melted, add the diced onion and cook for 2-3 minutes, or until the onion softens and becomes translucent. Tip the rice into the pan and stir it around to coat evenly in the butter/oil, then lower the heat slightly and cook for a couple of minutes, stirring gently to prevent the rice sticking.
Turn the heat up to medium-high, and pour the wine into the saucepan. Let it boil and bubble away rapidly for 2-3 minutes (this allows the alcohol to cook off), giving it a stir every so often, then reduce the heat under the pan to medium. Start adding the hot stock, one ladleful at a time; as you add the stock, keep stirring gently, and make sure each ladleful is fully absorbed into the rice before adding the next. Keep adding and stirring until the rice is al dente (retaining just a little firmness in the centre), which will take about 20 minutes. You may not need to use all the stock.
Next, gently fold the brown crab-meat mixture into the rice, and cook for another three minutes. Take the pan off the heat and dot over the remaining butter, stirring it in to melt it. Add the white crab meat and the chopped parsley leaves to the pan and mix in gently, then tip the risotto into a warmed serving dish and serve immediately, garnished with the lemon wedges and whole parsley leaves.
Be inspired…
Use our ready-made Seafood Sauce to whip up these luxurious mini-bites in minutes! Serves 10 as part of a buffet-style spread.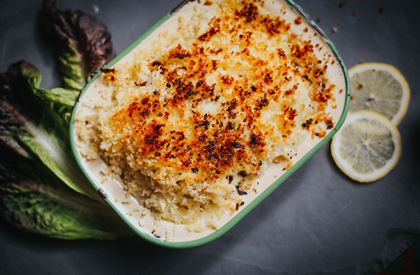 At Greendale Farm Shop, we know the crab on our fish counter is super-fresh because it's caught locally by the Greendale fishing fleet. This simple, fuss-free recipe comes highly recommended by Dave, the Farm Shop Fishmonger, as a delicious way to enjoy crab. Serves 2.
Come and see us
Greendale Farm Shop
Sidmouth Road
Nr. Farringdon
Exeter
EX5 2JU
Opening hours
Mon-Sat 8am-10pm | Sun 8am-9pm