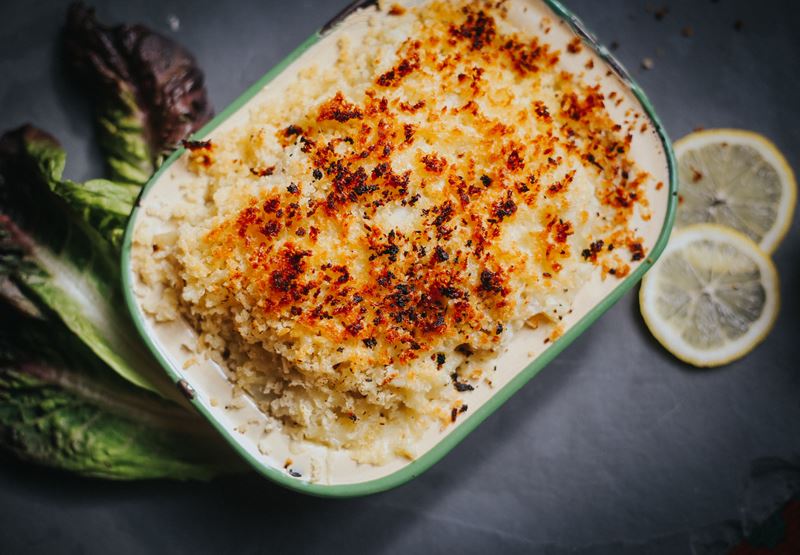 Quick Crab Gratin
At Greendale Farm Shop, we know the crab on our fish counter is super-fresh because it's caught locally by the Greendale fishing fleet. This simple, fuss-free recipe comes highly recommended by Ethan, the Farm Shop Fishmonger, as a delicious way to enjoy crab. Serves 2.
Posted by:

John Williams

Posted on:
Method
First, preheat the grill to medium/high. Put a small pan over a gentle heat and melt the 100g of butter, then remove the pan from the heat. Put the crab, melted butter, lemon juice, nutmeg, cayenne and mustard into a large bowl and mix together carefully. Divide the mixture equally between two medium-large ramekins.
To make the topping, first melt the 75g of butter, as before. Mix it with the breadcrumbs and the grated cheese, then sprinkle the mixture on top of each ramekin. Place the ramekins on a baking tray and put them under the hot grill until the topping mix has turned golden brown and is bubbling nicely. Serve with the lemon wedges and some crisp green leaves.
Be inspired…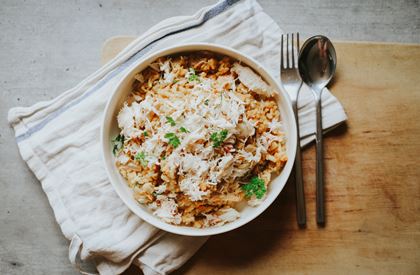 This rich, satisfying risotto is a great showcase for our lovely, locally-caught cooked crab.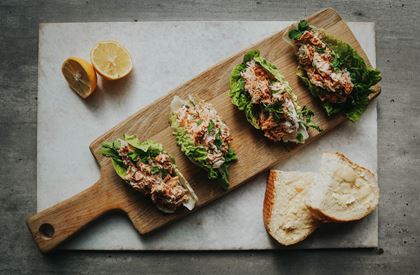 Crab is in season in the UK from April until about November, so you can eat it all summer long! This simple recipe uses zesty lemon and the lightness of mayonnaise to complement the salty deliciousness of the crab meat. Serves 4.
Come and see us
Greendale Farm Shop
Sidmouth Road
Nr. Farringdon
Exeter
EX5 2JU
Opening hours
Mon 8am-8pm | Tues-Sat 8am-10pm | Sun 9am-7pm