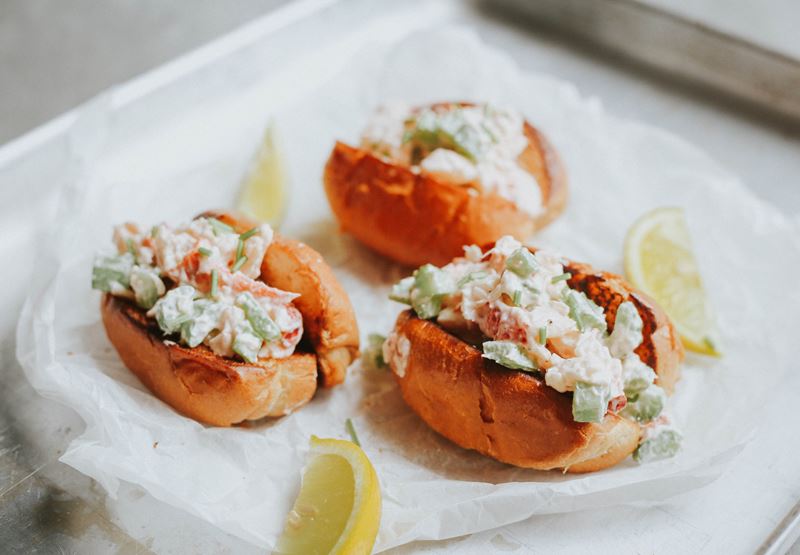 Devon Lobster Rolls Recipe
Something of an institution in New England, the Lobster Roll hasn't really caught on over here, which is a bit of a puzzle. We think they're perfect for a summer treat - quick to make, they're also rather delicious! Recipe will make 6 rolls, serving 6 as a snack or starter, or 2-3 as a main course.
Posted by:

John Williams

Posted on:
Ingredients
500g Greendale Cooked Lobster
5 tbsp Mayonnaise from a jar
1 Lemon, halved; juice one half, and cut the other into wedges for serving
Sea Salt and freshly ground Black Pepper
3-4 small Celery sticks from the heart of a head of Celery, diced (remove any strings)
Tabasco Sauce (optional)
1 tbsp Unsalted Butter, melted
6 small, soft White Bread Rolls; chunkier hot dog buns or brioche rolls are ideal
A few Chives, washed and chopped finely
Method
In a mixing bowl, stir the mayonnaise, lemon juice, Tabasco sauce (if using) and diced celery together. Crack the lobster, removing all the meat from the body and claws. Cut the meat into bite-sized chunks, then gently fold it into the mayonnaise mixture and season to taste with salt and pepper.
Heat up a griddle pan, brush the outsides of each roll lightly with the melted butter, then briefly toast the rolls on each side. To serve, split the rolls along the top (traditionally, the bread rolls in this recipe are split along the top rather than the side), then divide the lobster-mayo mixture evenly between the rolls. Arrange the rolls on a serving plate, then scatter with the chopped chives, add the lemon wedges to the side of the plate and serve straight away.
Come and see us
Greendale Farm Shop
Sidmouth Road
Nr. Farringdon
Exeter
EX5 2JU
Opening hours
Mon-Sat 8am-9pm | Sun 9am-8pm