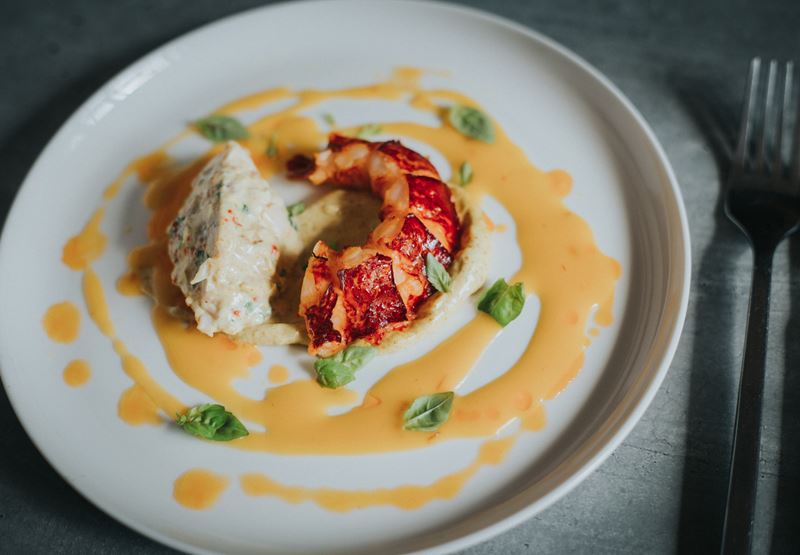 Warm lobster salad Recipe
This dish draws its inspiration from Asia and marries it with the native lobster of the Lyme Bay, the result, is a wonderful celebration of flavours and cultures. Serves 4
Posted by:

John Williams

Posted on: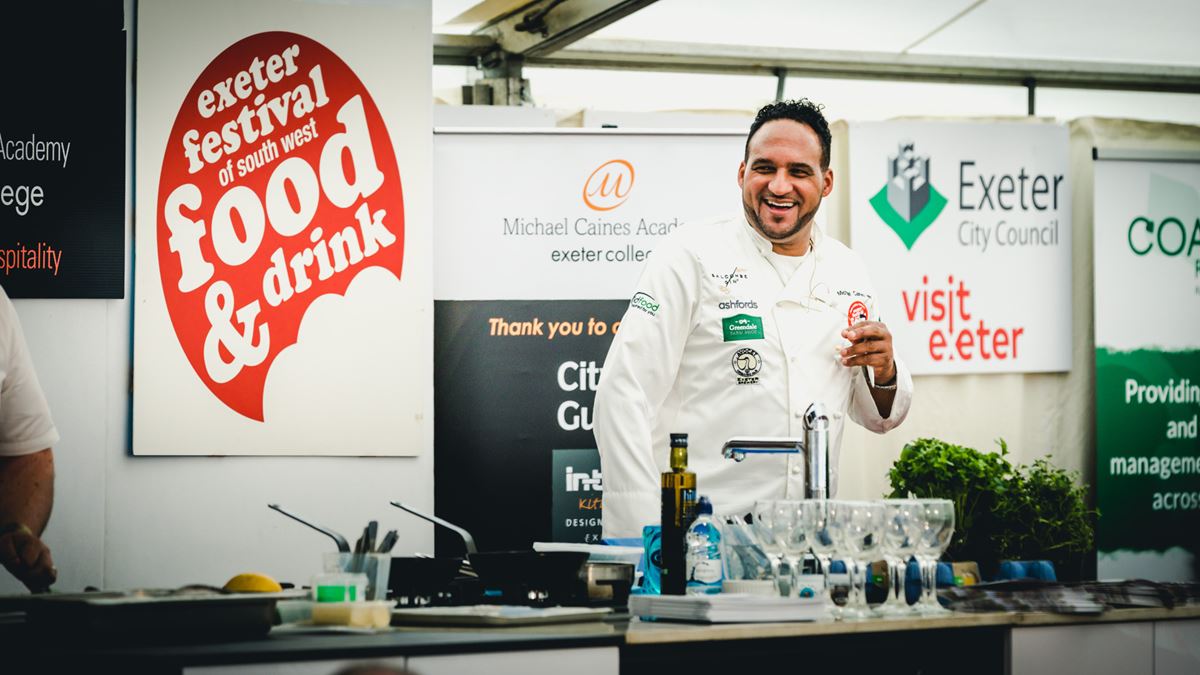 MICHAEL CAINES MBE
Michael Caines MBE, chef/patron of Lympstone Manor, is one of Britain's most popular and well-known chefs. The holder of two Michelin stars for 18 consecutive years, and awarded a Michelin star for Lympstone Manor just six months after opening. Michael is well known as a champion of the region's fine local produce, and  is passionate about sourcing the best ingredients for his menu. Visit Lympstone Manor's website
BECCI OF LADRAM
Lobster – there's nothing quite like it, especially when it's fresh from the waters of Lyme Bay! Watch our video of how the crew of the Becci of Ladram catch and land lobster for the Greendale Farm Shop. 
Ingredients
2 x 500g lobsters, cooked in court-bouillon (below)
4 lobster claws
lobster oil (if available)
Salad: basil (green and purple), coriander and lemon balm
fresh chive flowers (if available)

For the curried mayonnaise
10g Madras curry powder
15ml vegetable oil
150g mayonnaise
150g Greek-style yoghurt
lime juice, freshly squeezed
salt

For the mango, lime and cardamom vinaigrette
Cardamom gastric
20g cardamom pods
200g stock syrup (equal amounts of water and sugar)
45g glucose
60ml lime juice
zest of ½ a lime, finely
To finish
175g frozen Alfonso mango purée
50ml groundnut oil or good-quality vegetable oil
salt and freshly ground black pepper
lime juice

For the potato, mango and lobster salad
75g Ratte potatoes, cooked and diced
75g ripe mango, diced
75g lobster meat, diced
¼ teaspoon fresh basil, finely chopped
zest of ¼ of a lime, finely grated
20g mayonnaise 
10g curried mayonnaise (see above)
lime juice
Court-bouillon for cooking lobster and poaching salmon
200g carrots, chopped
200g fennel, chopped
200g onions, chopped
2 litres water
30g fresh parsley stalks
10g fresh tarragon
10 sprigs of fresh thyme
1 bay leaf
10g white peppercorns
1 bottle of white wine
20g salt  
Method
Lobster: Cut the lobster tails in half, then cut each half into 4 pieces (more, if your lobster is large). Put on a baking tray and season with freshly ground cardamom. Cut the claws in half across the middle so they can stand up. Chop the rest of the tail meat into small dice for the salad.

Curried mayonnaise: Toast the curry powder in a dry pan, then add the oil and leave to infuse. Mix together the mayonnaise and yoghurt in a bowl, then pour in the curried oil through a sieve and whisk in. Add the lime juice and salt to taste, and place in the fridge.

Mango and lime vinaigrette: First you need to make the gastric. Put the cardamom pods into a food processor and blend until broken up. Roast the cardamom seeds in a dry pan until they release their aroma, then add the stock syrup (and strained re-boiled liquid), bring to the boil, and cook until it reaches 110°C and has reduced. Add the glucose, lime juice and zest. Bring back to the boil and heat to 110°C again.
Strain off the gastric through a sieve, pressing well with a ladle. Reserve a large tablespoon of the gastric for later, and use the rest to make the vinaigrette as follows.
Vinaigrette: Put the mango purée into a blender and blend in the gastric. Add the groundnut oil, season with salt and pepper, and add a little lime juice if needed for acidity. Leave to cool, then check the seasoning.

To assemble: Preheat the oven to 170°C/gas mark 3. Brush the lobster with some lobster oil or olive oil, and put into the oven for 5 minutes. Meanwhile, pour some of the mango, lime and cardamom vinaigrette on to each serving plate and drizzle over some of the reserved cardamom gastric. Using two large dessert spoons, mould the lobster salad mixture into quenelles and place one in the middle of each plate. Now remove the lobster pieces from the oven and squeeze some lime juice over them. Place 1 claw and 4 pieces of tail on each plate, and spoon any oil over and around. Now spoon on 5 dots of curried mayonnaise of different sizes to make the plate look interesting – I put my mayonnaise in a squeezy bottle and pipe it, but if you don't have one of those, a spoon is fine. Sprinkle the herbs over, and finish with grated lime zest and a dusting of freshly ground cardamom.
Court-bouillon for cooking lobster and poaching salmon :This is a classic court-bouillon for fish and lobster. It's important that you cook the vegetables well, to extract their full flavour before adding the seafood. Put the vegetables into a large saucepan and add the water. Bring to the boil, then add the herbs, peppercorns, white wine and salt. Simmer for 15 minutes, then use for cooking lobsters or poaching fish. Once cooled, the cooked lobster can be kept in the bouillon in the fridge for up to 5 days.
Come and see us
Greendale Farm Shop
Sidmouth Road
Nr. Farringdon
Exeter
EX5 2JU
Opening hours
Mon-Sat 8am-10pm | Sun 8am-9pm