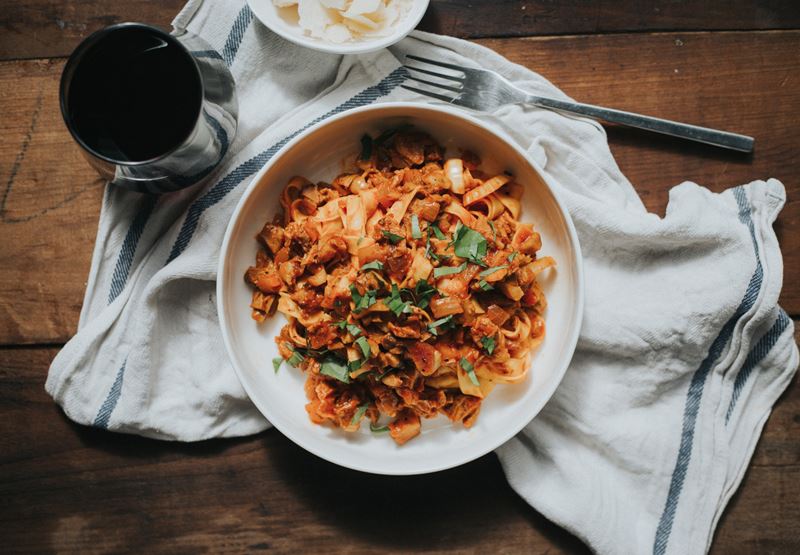 Leftover Lamb Ragu with Fettucine Recipe
This rich, slightly spicy sauce is a great way to make a satisfying family meal from leftover roast lamb – best of all, it can be ready and on the table in about half an hour. Serves 4.
Posted by:

John Williams

Posted on:
Ingredients
2 tbsp Light Olive Oil
2 Red Onions, peeled, trimmed and sliced finely
1 large Carrot, scrubbed and diced finely
1 Fennel Bulb, topped and tailed, then sliced finely
3 cloves Garlic, peeled and crushed
¼ tsp Ancho Chilli Flakes
1 tsp Dried Oregano
250g leftover Roast Lamb, chopped finely
2 tbsp Tomato Purée
400g tin Chopped Tomatoes
Sea Salt and freshly ground Black Pepper, to taste
400g Fettucine Pasta
Grated Parmesan Cheese and a small bunch of Basil, leaves only, to garnish
Method
Place a large, heavy pan over a medium heat and add the oil. As soon as the oil is hot, add the onion, carrot, fennel and garlic, then lower the heat and cook for 10-15 minutes, until the veg is softened and turning golden. Add the chilli and oregano, stir to combine and cook for a couple of minutes, then put the lamb, tinned tomatoes and tomato purée into the pan. Pour in 100ml of cold water, give everything a good stir, then increase the heat and allow the pan to come to the boil. When it's bubbling nicely, reduce the heat so that the pan drops to a simmer, then leave it to cook gently (stirring from time to time) for about 15 minutes, or until the sauce has reduced and thickened. While the sauce is cooking, bring a large, deep pan of water to the boil. Add a pinch of salt, then add the pasta and cook according to the packet instructions. Drain the pasta well and divide between four bowls. When the sauce has had its time, check the seasoning, adding salt and pepper to your taste. Ladle the ragu over the pasta, then tear the basil leaves and scatter them over each bowl. Serve immediately, with the grated parmesan alongside.
Be inspired…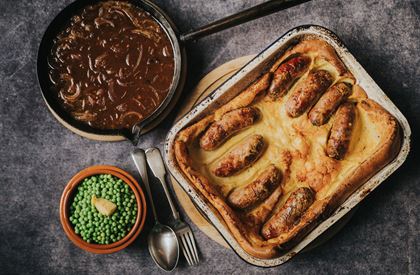 We're not sure how Toad in the Hole came by its unusual name, but whatever its origins, this satisfying dish is a true comfort-food favourite. In this recipe, we've used our hand-made Pork & Apple Sausages and a quick red onion gravy to serve on the side – just add your favourite greens.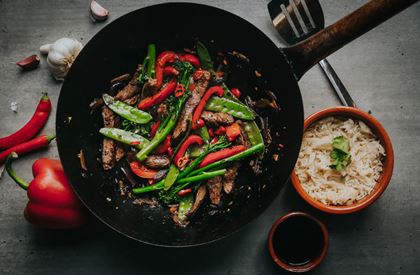 Sometimes time is short, but that doesn't mean you have to compromise on a healthy, tasty meal. Apart from a bit of chopping and stirring, this recipe is pretty straightforward – it's great to have up your sleeve for those times when you find yourself cooking against the clock.
Come and see us
Greendale Farm Shop
Sidmouth Road
Nr. Farringdon
Exeter
EX5 2JU
Opening hours
Mon-Sat 8am-9pm | Sun 9am-8pm