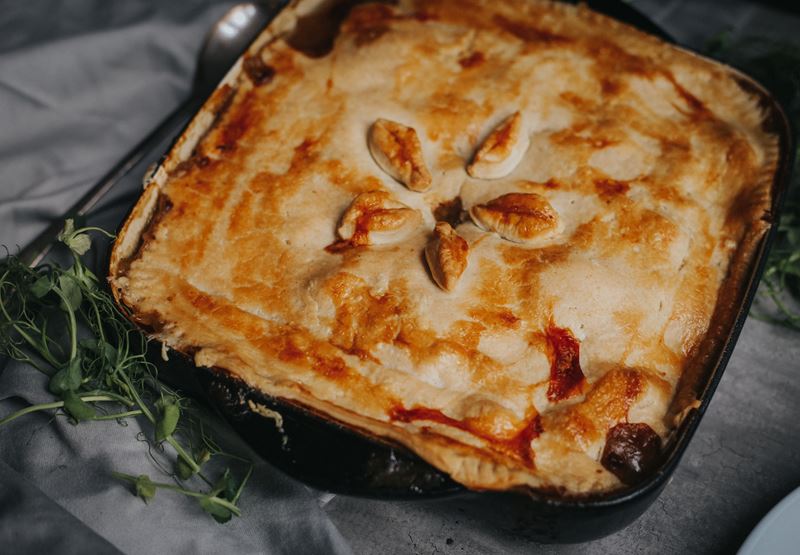 Lamb and Potato Pie Recipe
This hearty pie recipe takes a little longer to make, but it's worth the time and effort when you taste the rich, savoury lamb, leek and potato filling and the crisp pastry topping. Serves 4.
Posted by:

John Williams

Posted on:
Method
Place a large saucepan over a low heat and add the olive oil and butter. Put the lamb cubes on a plate, season them well with salt and pepper and dust them with the flour. As soon as the butter has melted, turn the heat up to medium and add the lamb to the pan, together with one of the leeks, cooking for about 4 minutes (you may need to cook in batches, depending on the size of the pan). Pour the hot stock into the pan, add the thyme leaves and bring up to the boil, then reduce the heat, cover and leave to simmer gently for up to 1½ hours, or until the lamb is soft and tender. Add the remaining leek slices and the diced potatoes, then continue to simmer uncovered for about 12 minutes, until the potatoes are cooked and the sauce has thickened. Take the pan off the heat and check the seasoning, then leave to cool.
While the lamb mixture cools down, you can get on with making the pastry. First, cut the butter into dice and put it into a food processor with the flour, then pulse until the mixture looks like fairly fine breadcrumbs. Add the water – a little at a time – until everything comes together into a smooth dough. Wrap the pastry dough in clingfilm or a clean tea towel and put it in the fridge until needed.
When the pie filling has cooled and the pastry has had a little time to chill in the fridge, preheat the oven to 180°C (Gas Mark 4). Tip the lamb mixture into a 1.5 litre pie dish and sit a pie funnel in the centre. Take the pastry out of the fridge, sprinkle a little flour on the worktop and rolling pin, and roll out the pastry; you need to make sure you have a shape that will form a 'lid' for your pie dish, plus an extra 2cm all the way round. Brush around the edges of the pie dish with the beaten egg, then carefully lay your pastry lid over the top of the dish and press gently around the outside edges with a fork to help seal the pie. Using a sharp knife, make a cut over the pie funnel so that the funnel protrudes up through the pastry (this allows excess steam to escape). Brush the top of the pie with the rest of the beaten egg, then put it in the hot oven and cook for about 30 minutes, until golden.
Come and see us
Greendale Farm Shop
Sidmouth Road
Nr. Farringdon
Exeter
EX5 2JU
Opening hours
Mon-Sat 8am-9pm | Sun 9am-8pm