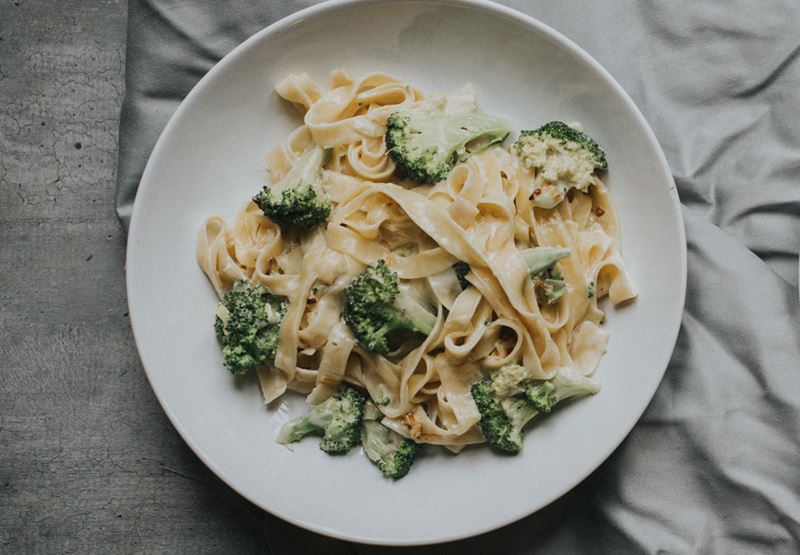 Devon Blue Tagliatelle with Leeks & Broccoli
This rich, indulgent pasta dish is just the ticket for a cosy evening in. If you can't find tagliatelle, fettucine, spaghetti or linguine will all work just as well. Serves 2.
Posted by:

John Williams

Posted on:
Ingredients
1 head Broccoli (Purple Sprouting, green or a mixture of both), washed and cut into florets
50g Unsalted Butter
1 large Leek, trimmed, washed and sliced finely
100ml Double Cream
Dried Tagliatelle (refer to packet for serving size and cooking instructions)
100g Devon Blue Cheese
Method
Fill and boil your kettle. Put a large, shallow pan over a low-medium heat and add the butter. When the butter has melted, put the leeks in the pan and reduce the heat slightly, then cook them gently for about 10 minutes, or until they have softened and started to caramelise. While the leeks are cooking, you need to get on with a couple of jobs; fill a large pan with boiling water, bring it up to a good rolling boil and add your pasta – the necessary cooking time will be on the packet, but 8-10 minutes is a rough guide. You also need to steam the broccoli; first, pour about 8cm of the boiled water into a large saucepan (for which you have a lid) and place it over a high heat. Put the broccoli florets into a colander, then sit the colander in the top of the pan so that the broccoli is above the water, but not touching it. Make sure the water is boiling, then put the lid on the pan and steam for two minutes (alternatively, you can just boil the broccoli florets in water for three minutes, though this tends to mean that valuable nutrients are lost in the cooking water).
Drain the cooked broccoli. When the leeks are looking just about ready, add the broccoli florets to the pan, stir, then cook them together for a minute or so. Next, pour in the cream and simmer for 2-3 minutes. Drain the cooked pasta, then add it to the pan, crumble in the Devon Blue and stir gently until well combined. Carefully divide the mixture between two pasta bowls, and serve straight away.
Come and see us
Greendale Farm Shop
Sidmouth Road
Nr. Farringdon
Exeter
EX5 2JU
Opening hours
Mon-Sat 8am-10pm | Sun 8am-9pm