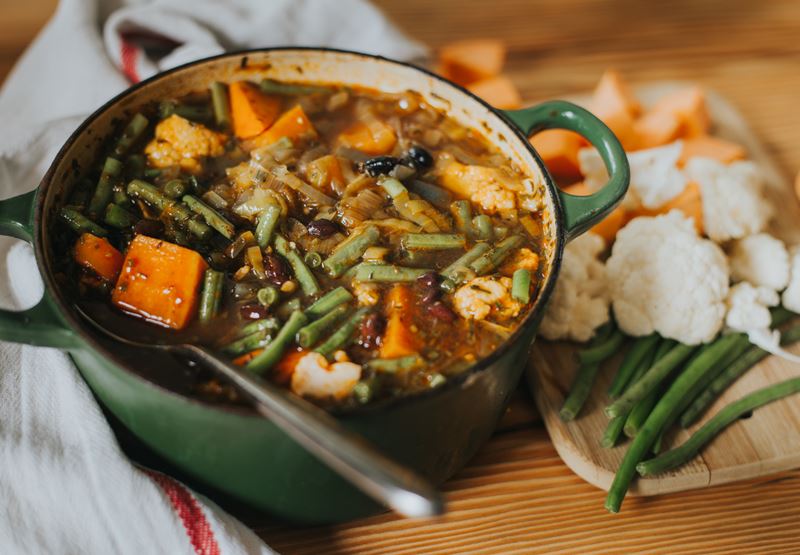 Vegetable Stew Recipe
This versatile stew can be adapted to use whatever veg you have to hand. Packed full of vibrant veg, with beans for extra fibre and protein, it's filling, tasty and a doddle to make – just be sure to cut the vegetables into similarly-sized pieces, so that their cooking times don't vary too much. This recipe will serve 4, with leftovers that can be frozen for an easy meal another day.
Posted by:

John Williams

Posted on:
Ingredients
1 tbsp Light Olive Oil
1 large Red Onion, peeled, trimmed and diced
2 Leeks, washed, trimmed and cut into roughly 1.5cm slices
2 large Carrots, scrubbed, trimmed and cut into 1cm 'coins'
2 large cloves Garlic, crushed
1 tsp Sweet Smoked Paprika
½ tsp Dried Mixed Herbs
1 large or 2 medium Sweet Potatoes, peeled and cut into 2cm dice
600ml Vegetable Stock
1 tsp Tamari or Soy Sauce
½ head Cauliflower (Broccoli is also good), cut into small florets
200g fine green beans, cut into 2cm lengths
1 x 400g tin Black Beans (or beans of your choice), drained and rinsed
Small bunch of Flatleaf Parsley, washed, leaves picked and chopped
Freshly ground Black Pepper
Method
Put the oil in a large saucepan over a low to medium heat. As soon as the oil is hot, add the onion and leeks and cook gently for five minutes, stirring occasionally to avoid sticking, until they are starting to soften. Next, add the carrots and crush in the garlic cloves, then sprinkle in the paprika and dried mixed herbs and stir everything to combine. Cook for about five minutes, then add the sweet potatoes and vegetable stock and increase the heat, bringing the pan up to the boil. Once boiling, reduce the heat again and simmer for five minutes, until the potatoes are just tender, then add the cauliflower florets and tamari sauce and simmer for another five minutes.
The vegetables should be nearly cooked at this point. Add the drained beans and green beans to the pan, and cook for another couple of minutes until the green beans are tender, then stir in the chopped parsley and season well with a good grind of black pepper (it probably won't need extra salt, because of the stock and the tamari sauce, but check and adjust to suit your taste). Serve straight away, with your favourite bread for mopping up the sauce.
Be inspired…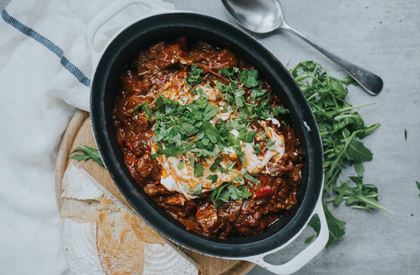 Flavoured with two types of paprika and packed with plenty of veg, this rich, warming beef stew is inspired by the traditional Hungarian Gulyás. Don't let the list of ingredients or the cooking time put you off – it's well worth the wait, and smells great while it cooks!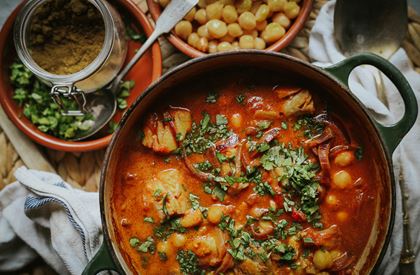 Inspired by the classic Moroccan Tagine, this spicy, warming stew is just the ticket for cold evenings. We've used Whiting for this recipe, but you can happily substitute Hake, Pollock or any other sustainably-fished white fish.
Come and see us
Greendale Farm Shop
Sidmouth Road
Nr. Farringdon
Exeter
EX5 2JU
Opening hours
Mon 8am-8pm | Tues-Sat 8am-10pm | Sun 9am-7pm