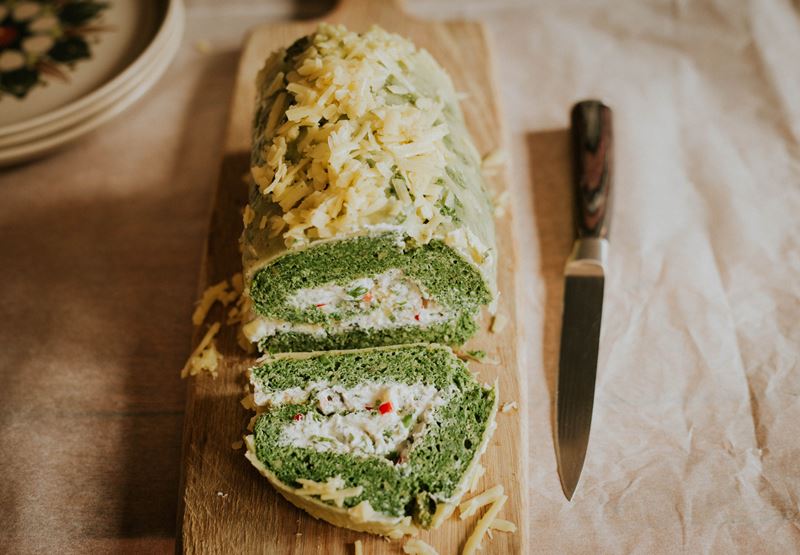 Spinach Roulade Recipe
With its festive colouring and yule-log shape, tasty Spinach Roulade won't look out of place on your Christmas table. This recipe is often made with Parmesan or Pecorino cheese, but we've chosen Devon-made Hawkridge Mature Cheddar for our version because we know it's vegetarian (and tastes delicious). Handily, the Roulade is served at room temperature, so it can be made ahead of time and refrigerated until you are nearly ready to eat. Serves 8.
Posted by:

John Williams

Posted on:
Ingredients
400g Spinach
6 medium Eggs, yolks carefully separated from whites
3 tbsp Plain White Flour
1 tsp Baking Powder
A whole Nutmeg, for grating
40g Hawkridge Mature Cheddar, grated finely
500g Ricotta (check to make sure it's a vegetarian brand – most are, but not all)
Small bunch of fresh Basil, leaves only, chopped finely
3 Sundried Tomatoes in oil, removed from jar, drained on kitchen roll (pat them with more kitchen paper to get them as dry as you can), chopped finely
30g Unsalted Pistachio Nuts, shelled and chopped finely (or given a very quick blitz in a food processor)
Salt and freshly ground Black Pepper, to taste
Method
Preheat the oven to 190°C (Gas Mark 5). Lightly butter a 23 x 33cm Swiss Roll tin, then line it with baking parchment. Wash the spinach, then put it into a large pan over a medium-high heat, place a lid on the pan and cook for about a minute. The washing-water clinging to the leaves should be sufficient to cook the spinach, but check it while it cooks to make sure it's not burning on the bottom of the pan. It will seem like a lot of spinach initially - you may need to cook it in batches - but it will collapse down dramatically as it cooks. Put the cooked spinach into a colander to cool. When you can handle it, squeeze the leaves firmly or press them against the sides of the colander to get rid of any moisture; the aim is to get the spinach fairly dry. Next, put the spinach into a food processor, together with the egg yolks, flour, baking powder and a generous grating of the nutmeg, and season with salt and pepper. Pulse until the spinach is chopped finely, then pour the mixture into a large bowl and set aside.
Put the egg whites into a separate, clean mixing bowl, and whisk them until they form (and hold) stiff peaks. Put three tablespoons of the whisked egg whites into the bowl containing the spinach mixture, and gently stir them in to loosen everything, then fold in the remaining whites, taking care not to over-work the mixture (you need to keep it as light and airy as possible). Tip the mixture into the prepared tin, spreading it out to the edges, then put it into the hot oven and cook for about 15 minutes, or until it has turned nicely golden and feels firm to the touch. Place a large sheet of baking parchment on a clean work surface, then sprinkle the finely grated Cheddar cheese on to the parchment, covering an area slightly larger than the Swiss Roll tin. When the Roulade base has cooked, remove the tin from the oven and carefully flip it over so that Roulade drops out on to the cheese. Gently peel off the sheet of baking parchment and leave the Roulade to cool while you make the filling.
In a large bowl, beat together the Ricotta, basil, sundried tomatoes and pistachios (retain a small spoonful for garnishing) and season to your taste with salt and pepper (remembering that the sundried tomatoes will be quite salty already). When the Roulade has cooled, leave it sitting on the cheese-covered baking parchment and spread it with the filling, leaving a gap of about 1cm around the edges, with a 2cm gap at one of the shorter ends. Starting from the other short end, lift the baking parchment and use it to help you roll the Roulade into a Swiss Roll shape, trying to keep it as tightly together as possible. Lift the Roulade on to a serving plate with the 'seam' side down, then scatter over the remaining chopped pistachio nuts. Serve in slices with a fresh salad of chicory and dark green leaves.
Come and see us
Greendale Farm Shop
Sidmouth Road
Nr. Farringdon
Exeter
EX5 2JU
Opening hours
Mon-Sat 8am-8pm Sunday 9am-6pm