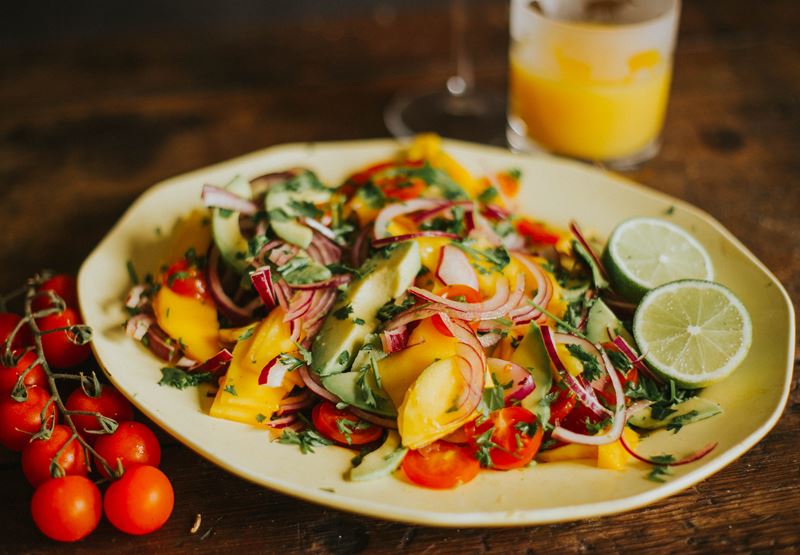 Mango, Tomato & Avocado Salad
Healthy and delicious, this quick, simple salad combines some surprising ingredients (mango with tomato sounds odd, but somehow it works). All the lovely juices from the tomatoes, mango and lime stop the avocado turning brown, so it looks amazing, too. We like to eat this with some simply grilled chicken breast fillets – it's also a great accompaniment to oily fish, like Mackerel. Serves 2.
Posted by:

John Williams

Posted on:
Ingredients
1 ripe Mango
1 ripe Avocado
10 Baby Plum Tomatoes or 5 smaller On-the-Vine Tomatoes
1 Lime (juice and zest)
Small bunch of Parsley, leaves only, washed and roughly chopped
Small bunch of Coriander, leaves only, washed and roughly chopped
1 small Red Onion, trimmed, peeled, halved and very thinly sliced
About 150ml Extra Virgin Olive Oil
Method
Working over a bowl to collect any juices, remove the skin from the mango and cut the flesh away from either side of its large, central stone. Cut the flesh into thin, evenly-sized slices and place it on a serving platter. Trim and peel the onion, then cut it in half and slice each half as thinly as you can. Slice the tomatoes thinly, too, then tip them (and any juices) on to the platter together with the onion, add the lime juice and zest and toss gently together to combine. Next, cut carefully around the length of the avocado and pull the two halves apart, then use a spoon to scoop out the stone. Cut each avocado half into slender, crescent-shaped slices and place on the serving platter. Sprinkle over the chopped herbs, drizzle over the olive oil and any juice you saved from the mango (you may need a little more or less oil, depending on the amount of juice present). Toss it all together once more, taking care not to bash the avocado slices too much, and serve.
Come and see us
Greendale Farm Shop
Sidmouth Road
Nr. Farringdon
Exeter
EX5 2JU
Opening hours
Mon-Sat 8am-8pm Sunday 9am-6pm