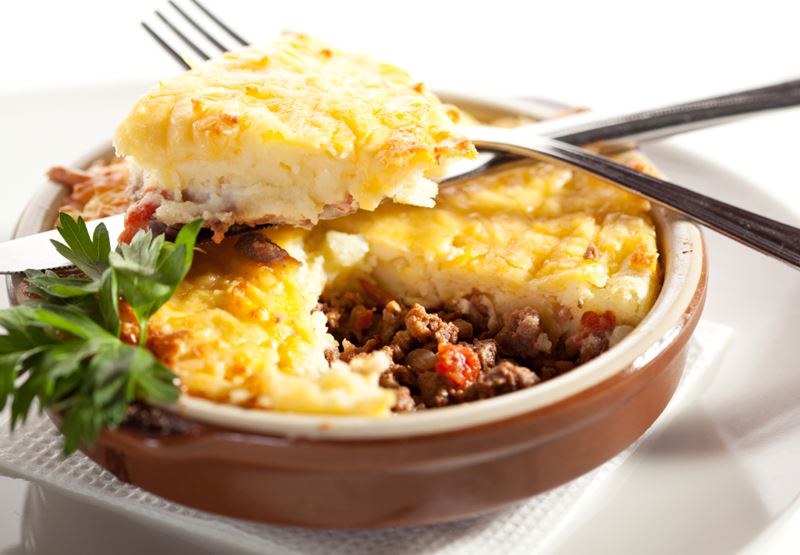 Cottage Pie Recipe
Comfort food at its delicious, savoury best! Cottage Pie freezes well, so you could make two and pop one in the freezer for an easy meal at a later date.
Makes two generous servings.
Posted by:

John Williams

Posted on:
Ingredients
For the mince;
50ml Olive Oil
650g Minced Beef
5 large Shallots, finely chopped
4 stalks of fresh Thyme (leaves only)
2 tbsp Tomato Purée
1 tbsp Plain Flour
150ml Red Wine
400ml Beef Stock
Salt and Pepper, to taste
A dash of Worcestershire Sauce (optional)
For the mash;
900g Potatoes, peeled and cut into evenly-sized chunks
115g Unsalted Butter
A splash of Milk
Salt and Pepper, to taste
Method
Heat a large frying pan over a medium heat. Pour in half of the olive oil, then add the minced beef (you will need to cook it in batches, frying each batch for about 5 minutes, or until browned all over). Next, heat another pan over a gentle heat, add the remaining olive oil and then cook the shallots for a few minutes, until they are just softened. Stir in the tomato purée, thyme leaves and flour, and cook for a further minute.  Add all the cooked beef to the shallot pan.
Pour the red wine into the pan you used to cook the beef, and cook over a medium-high heat for 4 minutes or so, using a wooden spoon to scrape up any caramelised bits of beef and stir them into the wine. When the wine has reduced by half, pour it into the pan containing the shallots and cooked beef. Next, add the beef stock to the pan as well, then leave it all to simmer for 45 minutes, or until the beef is tender and the sauce has thickened. Season to taste with salt and black pepper, and add a few dashes of Worcestershire sauce if using. Keep warm over a very low heat.
While the beef is simmering, make the mashed potatoes. Put the potato chunks in a pan of water and bring it to the boil, then simmer for about 15 minutes, or until the point of a sharp knife will pierce the largest potato chunk easily. Drain the potatoes well and return them to the pan. Add the butter, then mash the potatoes with a potato masher or ricer. Add the milk, beating to form a smooth mash, then season to taste with salt and black pepper. Spoon the mash into a piping bag, then preheat the grill to high.
Place the mince mixture into a baking dish, then pipe the mash carefully over the top. Place the dish under the grill for about 10 minutes, or until the potato is golden brown. Serve straight away with your favourite green veg (we love peas with a knob of butter).
Come and see us
Greendale Farm Shop
Sidmouth Road
Nr. Farringdon
Exeter
EX5 2JU
Opening hours
Mon 8am-8pm | Tues-Sat 8am-10pm | Sun 9am-7pm