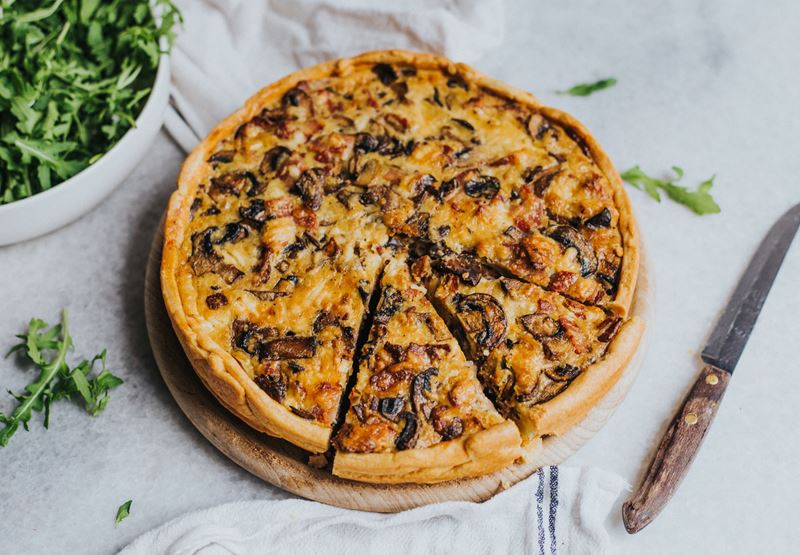 Smoky Bacon & Mushroom Quiche Recipe
This tasty quiche recipe is a great one to have up your sleeve for summer buffets, 'not-sure-how-many-guests' type meals and even picnics (keep the quiche in the tin if you're planning to travel with it). Serves 6-8.
Posted by:

John Williams

Posted on:
Method
To make the pastry, sieve the flour into a large mixing bowl, then cut the butter into small cubes and add to the bowl (if it's really cold, you can grate it in). Rub the flour and butter together with your fingertips until the mixture looks like fine breadcrumbs, then add the water a little at a time, mixing, until you have a firm, smooth pastry dough. Wrap the dough in clingfilm and chill in the fridge for about 30 minutes; towards the end of this time, preheat the oven to 200°C.
When the pastry has chilled, dust your work surface and rolling pin lightly with flour, and roll the pastry out into a circle large enough to line your tart tin. Push the pastry snugly into the base and up the sides of the tin, trim off any overhang, and use a fork to lightly prick a few holes across the base. Next, take a large sheet of baking paper, crumple it up and then smooth it out again; use it to line the pastry case, then add baking beans until the case is half-full. Bake the tart case in the hot oven for 15 minutes, then remove the baking beans and paper and return the tart to the oven for a further 5 minutes, or until the pastry is dry and lightly golden. Remove the pastry from the oven and reduce the heat to 180°C.
While the pastry is cooking, roughly chop the bacon and thinly slice the cleaned mushrooms. Take two frying pans and add a splash of olive oil to each, then place over a medium heat. Put the bacon pieces into one pan and the mushrooms into the other: fry the bacon for a couple of minutes, turning, until crisp; cook the mushrooms until they have released all their juices and are lightly golden (they will take longer to cook than the bacon). Lift the cooked bacon and mushrooms on to some kitchen paper to drain, and set aside.
Next, break the eggs into a bowl and beat lightly with a fork. Stir in the cream, then grate the cheese into the bowl, too, along with the cooked mushrooms and bacon. Season well with salt and pepper. Pour the mixture into the baked pastry case, then cook on the centre shelf of the oven for 45 minutes, or until just-set and golden brown.
Come and see us
Greendale Farm Shop
Sidmouth Road
Nr. Farringdon
Exeter
EX5 2JU
Opening hours
Mon-Sat 8am-10pm | Sun 8am-9pm