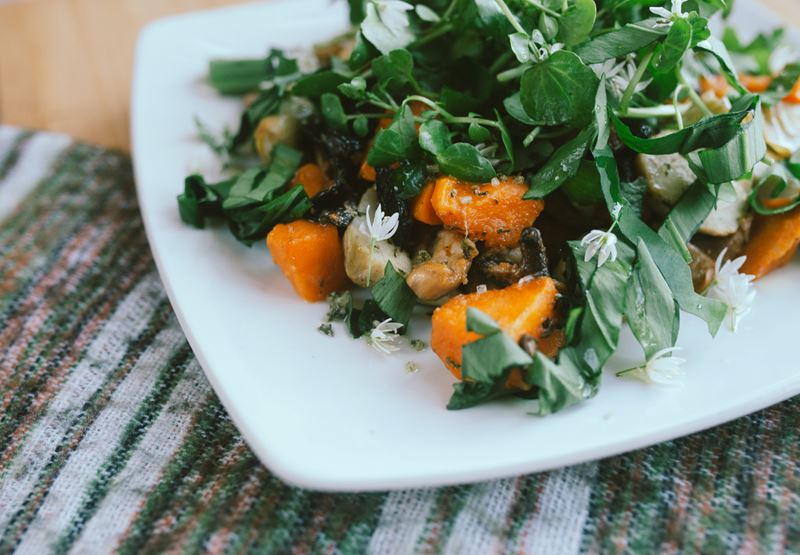 Mushroom, Artichoke and Sweet Potato Salad
To celebrate Vegetarian Week, we've teamed up with vegan food bloggers @eatsandvinyl to bring you this delicious wild mushroom, artichoke and sweet potato salad. Drizzled with luxurious truffle oil and topped with watercress and wild garlic from the Devon hedgerows, it's a flavour-packed example of meat-free food at its best.
Posted by:

John Williams

Posted on: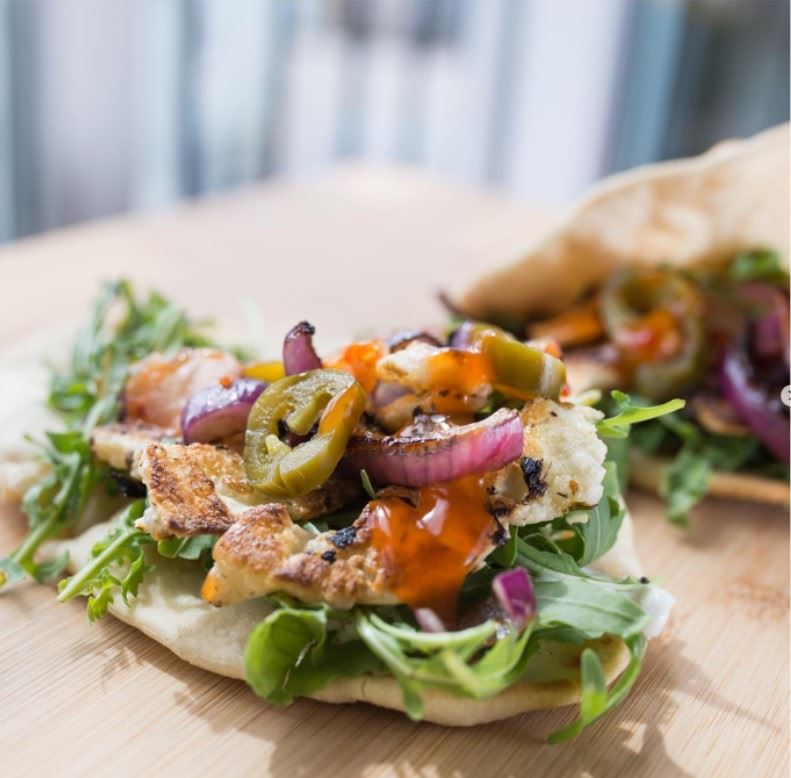 MEET VEGAN FOOD BLOGGERS @EATSANDVINYL
@eatsandvinyl are a team of two; based in the beautiful South Hams, Tia and Max describe themselves as "a couple of (mostly) plant-based, music-loving Devon dumplings". As well as travelling in their beloved T4 transporter, their passions include creating and eating vegan food and drinking craft beer - they particularly love making the most of fresh Devon produce, and shop locally whenever possible.
Method
1. Ensure all veg, including wild garlic is thoroughly washed.
2. Boil sweet potato chucks in water for 10 mins, or until fork tender
3. Once the potato is cooked, drain and put to one side
4. In a pan heat some truffle oil, then add the wild mushrooms. Let these cook for a couple of minutes before adding the artichoke hearts.
5. Once the mushrooms have started to shrink, add the sweet potato and cover pan with a lid to keep the heat in for 3-5 minutes to soften the artichokes.
6. Once cooked, sprinkle the thyme over it and transfer into a large bowl or plate to serve.
7. Top with your salad leaves, and sprinkle some of the wild garlic leaves over the top. You can also use the flowers for decoration too as they are also edible!
8. Before serving, give the dish one last drizzle with a bit more truffle oil, and season with salt and pepper.
Other optional extras:
- We used home-made wild garlic salt instead of normal sea salt which gives the dish a lovely garlicy flavour.
- You could toast some pumpkin seeds in a pan for a couple of minutes and add these on top of the salad for a nuttier taste.
Come and see us
Greendale Farm Shop
Sidmouth Road
Nr. Farringdon
Exeter
EX5 2JU
Opening hours
Mon-Sat 8am-10pm | Sun 8am-9pm