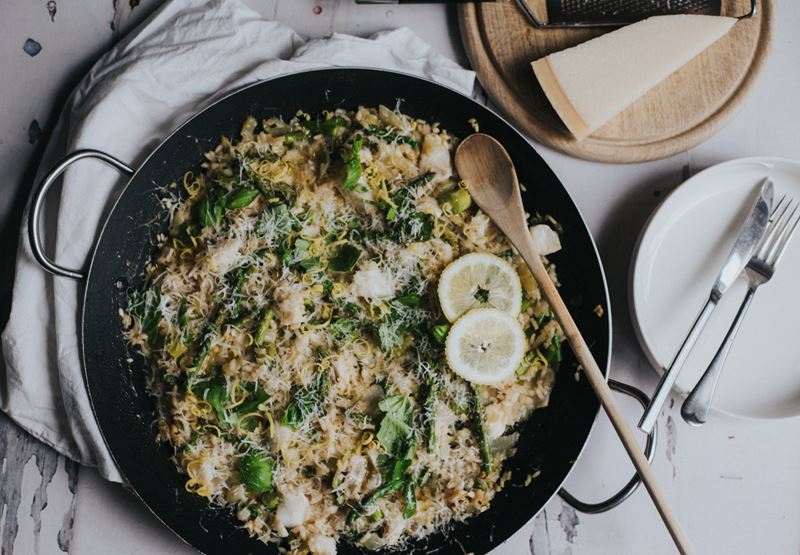 Monkfish & Asparagus Risotto
Take comfort food to a new level with this luxurious risotto. It's a fairly simple recipe that makes the most of its wonderful ingredients – a fair bit of stirring is involved, but the end result is well worth it! Serves 2
Posted by:

John Williams

Posted on:
Method
First, fill and boil your kettle and make up your vegetable stock. Pour the stock into a saucepan and add the reserved woody ends from the asparagus spears, bring the pan to a boil and then reduce the heat to a low simmer. Next, take another large saucepan, add a tablespoon of olive oil and a generous knob of the butter, and place on a low-medium heat. As soon as the butter has melted, add the prepared onion and celery and cook over a low heat for about five minutes, stirring every so often, until the veg have softened but not yet taken on any colour. While this is happening, cut the asparagus spears into chunks (leave the heads intact) and set aside.
When the onion and celery have softened, tip the rice into the pan with them and cook for about a minute, stirring, until the rice becomes translucent. Pour in the wine (if using) and continue stirring until it has been absorbed, then turn the heat up to medium and add a ladleful of hot stock to the rice (avoid the asparagus stem-ends in the stock, they're only there to add flavour). Stir the rice gently and constantly until all the stock has been absorbed, then add another ladleful of stock; stir until absorbed, then add more, and keep going in this way until you've used about two-thirds of the stock.
Next, add the monkfish pieces and the chunks of asparagus to the pan. Keep adding the stock, a ladleful at a time, until the fish is cooked through and the rice is creamy and sauce-like in texture – carefully lift out a grain and squash it, and (if ready) it should crush easily to reveal a just-cooked 'al dente' centre. Take the pan off the heat and add a knob of butter, the 40g of parmesan and the grated zest of about half the lemon. Stir gently until everything is well combined, then check the seasoning and add salt and pepper to your taste. Dish up on to two plates, grate over a little more parmesan, rip the basil leaves and scatter them over each plate, then serve straight away.
Come and see us
Greendale Farm Shop
Sidmouth Road
Nr. Farringdon
Exeter
EX5 2JU
Opening hours
Mon-Sat 8am-10pm | Sun 8am-9pm