Easy Pork Stroganoff Recipe
Savoury and sustaining, this creamy pork dish is so much more than the sum of its parts. It's a pretty quick recipe, too, making it ideal to keep up your sleeve for those days when time is tight but you don't want to compromise on quality. Serves 2.
Posted by:

John Williams

Posted on:
Method
If you plan to serve your Stroganoff with rice, rinse the rice and start it cooking before you begin the recipe (you can always drain it and leave it covered in a warm pan if it's ready before you are).
Put a clean plate next to the hob, then place a frying pan over a medium heat and add the olive oil and butter. When the butter has melted, add the prepared onion to the pan and fry for 3-5 minutes, or until soft. Lift the onion slices out of the pan and on to the waiting plate, and put the pan back on the hob. Turn the heat up to high and wait for the pan to become smoking hot; as soon as it does, put the strips of pork into the pan and stir-fry them briskly until browned all over, using a fish slice to keep them moving around the pan so they don't burn.
Next, add the sliced mushrooms to the pan and cook – still keeping everything moving – for just a few minutes until their juices start to run. Tip the cooked onion slices back into the pan and stir well, then season to your taste with salt and pepper. Pour in the wine or stock and let it bubble away, stirring regularly, until slightly reduced, then stir in the crème fraiche, the paprika and the mustard. Lower the heat and let the sauce simmer gently (stir every so often to prevent sticking) until it has reduced by almost half its volume, then stir through the lemon juice. Check you are happy with the seasoning, then serve straight away on a bed of rice (if using) with the parsley leaves scattered over.
Be inspired…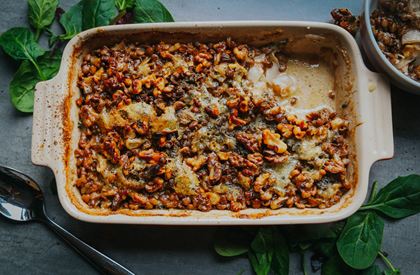 Celeriac may not be the prettiest of vegetables, but give it a chance and you will be pleasantly surprised. It has a nutty flavour, akin to that of celery, and complements the blue cheese and walnuts in this creamy gratin perfectly.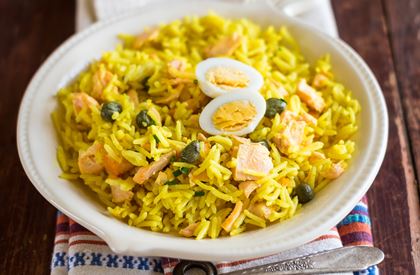 This delicious spiced fish dish makes a perfect brunch or dinner with friends. It's a great showcase for tasty smoked haddock, though other smoked fish (such as hake) can be used equally successfully.
Come and see us
Greendale Farm Shop
Sidmouth Road
Nr. Farringdon
Exeter
EX5 2JU
Opening hours
Mon-Sat 8am-11pm | Sun 9am-7pm