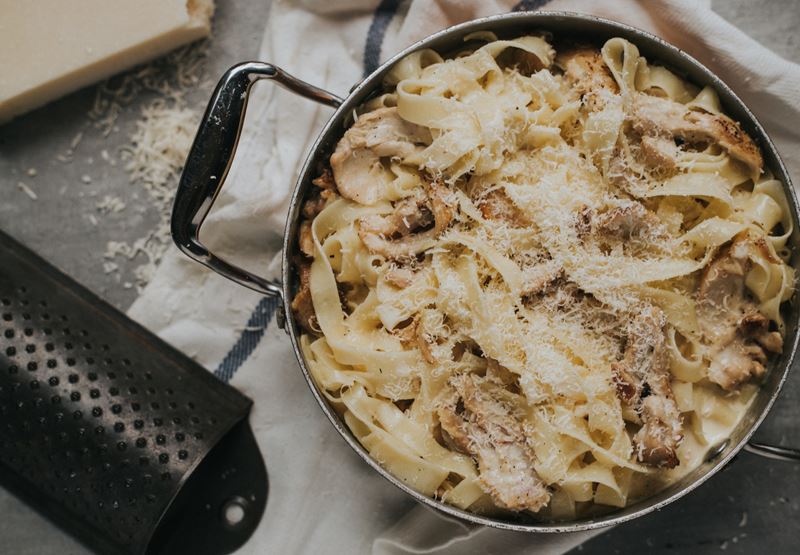 Chicken Alfredo Recipe
When you need a quick, hot meal after a difficult day, try this simple but delicious recipe; combining free-range chicken with butter, cream, pasta and parmesan, it's guaranteed to deliver a big bowlful of joy! Serves 4.
Posted by:

John Williams

Posted on:
Method
Set a clean plate ready beside the hob, then place a frying pan over a medium-high heat and add a good splash of olive oil. When the oil is properly hot, add the halved chicken thighs and fry them for five minutes until the undersides are golden brown. Flip them over and fry on the other side for a further five minutes, until every piece of chicken is golden all over and cooked through. Lift the cooked chicken pieces on to the plate and leave them to cool slightly, then use two forks to shred the meat gently. Keep the frying pan handy.
Next, fill a large, deep saucepan with water, add a generous pinch of salt and put the pan on a high heat to bring it up to the boil. When the water reaches a rolling boil, add the pasta and set a timer for one minute less than the cooking time stated on the pasta packaging. While the pasta cooks, put the frying pan back on a medium heat and add the butter. Use a wooden spoon to scrape any small pieces of browned chicken off the bottom of the pan and into the melted butter, then gently stir in the cream and grate over nutmeg to your taste. Put the cooked chicken pieces into the creamy sauce and stir gently to coat.
When the pasta has had its time, use tongs to lift it straight from its cooking water and into the frying pan. Sprinkle over the parmesan, then use the tongs to mix everything gently, loosening with a splash of the pasta-cooking water if you think it needs it. Check the seasoning (you probably won't need much salt, if any, but a few grinds of black pepper are good here), then divide between four serving bowls and top with a little more grated parmesan and the chopped parsley, then serve.
Be inspired…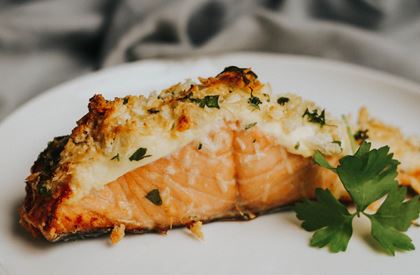 Simple to make, quick to cook and delicious to eat, these baked salmon fillets are about as close as we get to 'fast food'! The recipe is pretty versatile - you can replace the parmesan with any other hard cheese you have to hand, and swap the parsley for dill, chives or other soft herbs.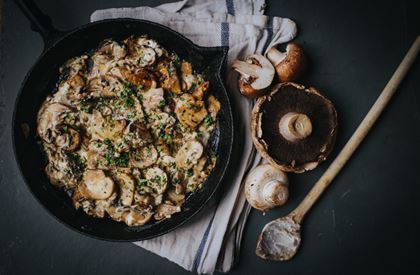 Quick to make, this indulgent-tasting and delicious dish makes a lovely (and easy) supper with some crusty bread and a few salad leaves – it's also a good side vegetable for roast beef or pork.
Come and see us
Greendale Farm Shop
Sidmouth Road
Nr. Farringdon
Exeter
EX5 2JU
Opening hours
Mon 8am-8pm | Tues-Sat 8am-10pm | Sun 9am-7pm